RIO DE JANEIRO - Soccer star Ronaldo de Assis, better known as Ronaldinho, opened a school for 3,500 poor children in the central Brazilian city of Porto Alegre, at a public ceremony on Wednesday.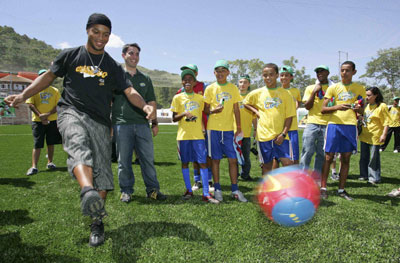 Brazilian soccer star Ronaldinho (L), who plays for Spanish soccer team Barcelona, kicks a ball during the launch of the Ronaldinho institute for poor children in the southern Brazilian city of Porto Alegre December 27, 2006. [Reuters]
"This is something I have always dreamed of doing," Rondaldinho told media before bursting into tears.
The school will go into operation on March 27, the player's birthday. It will be financed from donations from the school's partners, individuals, the state and private companies.
School director Roberto de Assis, Ronaldinho's brother, said that the children will learn sport, IT, languages, acting and music, and enjoy support in all school disciplines.
"If a great talent appears in this school, that it excellent. However that is not the point. We wish to give these children an opportunity to grow and learn," said the school director.
The Ronaldinho Institute, which covers nearly 120,000 square meters, will employ 100 staff including doctors, dentists and teachers.
The school has a soccer field that meets the standards set by the International Federation of Football Associations (FIFA), as well as 47,000 square meters of forest, two multi-purpose soccer fields, two tennis pitches, two swimming pools and a 4,000-seat gym.
Sports minister Orlando Silva and Brazil national team manager Carlos Caetano Bledorn Verri, better known as Dunga, were among the celebrities at the ceremony.
Ronaldinho, twice FIFA world player of the year, was born in a Porto Alegre shantytown.