Italy's Fabio Cannavaro completed an outstanding year of achievement on Monday when he added FIFA's World Player of the Year crown to the European Footballer of the Year award he won last month.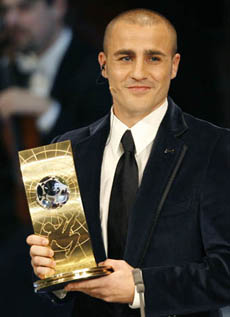 World Player of the Year 2006 Fabio Cannavaro of Italy shows his trophy during the FIFA World Player Gala in Zurich December 18, 2006. Italy's World Cup-winning captain Cannavaro gained individual recognition for his performances in this year's tournament in Germany when he was named FIFA World Player of the Year on Monday. [Reuters]





Cannavaro, who captained his country to victory in the World Cup final in Berlin in July, beat off competition from Brazil's Ronaldinho and retired French great Zinedine Zidane in a vote by national team coaches and skippers.

"It's an unbelievable moment," said the 33-year-old Real Madrid defender at the awards ceremony inside Zurich's opera house. "It really has been a golden year."

Cannavaro ended Ronaldinho's two-year reign as World Player of the Year after he also succeeded the Barcelona playmaker as European Footballer of the Year.

Zidane, who quit after the World Cup, previously won the FIFA award in 1998, 2000 and 2003.

"The competition was scary, it was so strong," added Cannavaro. "After winning the World Cup and the European Footballer of the Year award too, I do not think I can ask for anything else."

FIRST DEFENDER

Cannavaro is the first defender to win the FIFA award since its inception in 1991.

Only three defensive players have won the European award, Soviet Union goalkeeper Lev Yashin in 1963, West Germany sweeper Franz Beckenbauer (1972, 1976) and Germany libero Matthias Sammer (1996).

"It is not usual for a defender to be sitting alongside Ronaldinho and Zinedine Zidane, who get to do marvellous things all season, so I saw it as a victory just to be here," Cannavaro said.

The Italian paid particular tribute to Zidane, his predecessor in the number five shirt at Real and a controversial choice on the World Player shortlist following his red card in the World Cup final.

GREAT PLAYER

"When I first came to Real everybody asked me what it meant to be wearing the same shirt," said Cannavaro. "I can only say now what I said then, it is an honour to wear the same number as such a great player."

Like Zidane, Cannavaro has been involved in his fair share of controversy this year, not least when he helped Juventus win a second successive Serie A title only for the club to be stripped of the crown and relegated following a probe into alleged match-fixing.

Italy's World Cup success was achieved against the backdrop of that investigation and Cannavaro went into the tournament facing criticism after he defended former Juventus general manager Luciano Moggi, who was at the centre of the allegations.

"I would like to dedicate this award to Italian football," said Cannavaro on Monday. "Everyone knows the problems we faced before the World Cup and I hope this award can mark a rebirth for Italian football."

Ronaldinho was still wearing his trademark grin despite being jet-lagged after flying from Barcelona's Club World Cup final defeat in Japan.

"It is a privilege to be sitting here next to Cannavaro," said the Brazilian.

"I already feel like a winner because the nomination is a reward for my career so far. Now I just want to help my team and do so in such a way that I can make it to Zurich every year."

MARTA AWARD

Brazil midfielder Marta was named women's World Player of the Year after finishing third at the 2004 awards and second last year.

The 20-year-old, who scored four semi-final goals to lead Swedish club Umea into next April's UEFA Cup final, beat experienced American Kristine Lilly and Germany playmaker Renate Lingor.

Giacinto Facchetti, who died in September, was posthumously given the FIFA Presidential Award.

"We will always remember him as an extraordinary player...but above all as a wonderful person," said FIFA president Sepp Blatter of the former Inter Milan and Italy defender.

World soccer's governing body gave its annual Fair Play Award to the 2006 World Cup fans in recognition of what it called a "highly impressive example of unity and understanding between different peoples".