BANGKOK, Dec 15 - A Thai Asian Games gold medallist will run around his training track naked after his prayers were answered as he awaited the result of a photo-finish.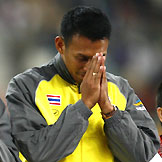 Sittichai Suwonprateep of Thailand performs the wai, a traditional Thai greeting, during the award ceremony for the men's 4x100m relay race final at the 15th Asian Games in Doha December 12, 2006. [Reuters]

Sittichai Suwonprateep, who ran the last leg of the men's 4x100 metre relay final on Tuesday, said he prayed while waiting anxiously for a decision which ruled he had got to the finish line just ahead of Japan's Shinji Takahira.

"I didn't know what to do while waiting for the photo result so I just told all the spirits and sacred objects I worship that if I won I would run naked," Sittichai told Reuters. "I am not sure if this gold medal was the result of my ability or the power of the spirits I prayed to," said the 26-year-old naval officer who won a gold in the same relay in the 2002 Asian Games in Busan.

Making promises to amulets, images or spirits is a common practice among Thais in largely Buddhist Southeast Asian nation.

But Sittichai declined to say when he would actually run naked.

"I won't tell anyone when I will run. I am embarrassed about what I will be doing."