The billions of dollars invested in holding the Asian Games were never meant to be offset by ticket sales, TV rights or tourism. The Doha backers believe it has put this city on the map.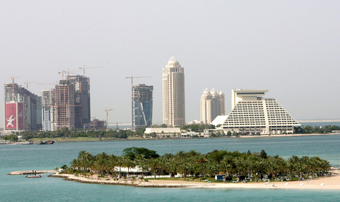 Once little more than a resting point for European trading ships enroute to India, Doha is the first Arab city to host the quadrennial games.
And the Qatar Olympic Committee already has said the quadrennial event, the biggest Asian Games on record, was a test run for its loftier target for another one held every four years: the Summer Olympics.
Qatar is preparing a bid for the 2106 Olympics. If that fails, it has promised to keep bidding until it wins.
"The returns of these games to Qatar are great, especially when it comes to reputation," Ministry of Finance undersecretary Khalaf Ahmed Al Mannai told The Associated Press. "This is in addition to direct return of having huge sports facilities, infrastructure and roads.
"The Athletes Village will be turned into a medical city with hospitals and laboratories," said Al Mannai. "These games were a great advertisement for us without going to advertising companies. This is a major sports event and that will add to Qatar's status."
Qatar spent US$2.8 billion (euro2.12 billion) on preparing venues, including a major upgrade to the 50,000-seat Khalifa Stadium and the construction of the Aspire indoor sports complex, the world's largest indoor multisports dome. It also provided an Athletes Village with 11,535 beds.
New roads are planned to cut down on traffic congestion and dozens of new high-rise hotels and office towers are being constructed as a thriving city grows out of the desert.
"The money spent on such games cannot be returned financially whether by selling tickets or hotel rooms but there is a major indirect income for such games," said Ahmed Abdulla Al Khulaifi, deputy director general of the Doha Asian Games.
Ticket sales in the first week amounted to 17 million riyals (US$4.65 million, euro3.52 million), he said, "but 17 million compared with the total cost is very small.
"The indirect income is huge ... if we take into consideration the media (coverage) about Qatar."
The broader aim for this oil and gas-rich emirate is to become a finance and sports capital of the region.
"The credit that Qatar could take about its ability to host such event is invaluable," Al Khulaifi said of the Asian Games, which attracted more than 10,000 athletes in 39 sports.
When the International Olympic Committee opens its application process next year for candidates to host the 2016 Games, Qatar will be among the first cities to nominate.
Doha is expected to face strong competition from cities including Madrid, Tokyo and Rio de Janeiro.
Asked if Qatar is capable of hosting the Olympics, Sheik Talal al-Fahd Al Sabah, Olympic Council of Asia chief, said the current infrastructure for the Asian Games is 90 percent of what is needed.
"If Qatar is serious about hosting the Olympics it should start working as of now to chose the team that will spearhead its campaign," Al Sabah said.
Doha already has gained good kudos from IOC chief Jacques Rogge, who attended the lavish December 1 opening ceremony and reportedly praised the facilities and organization.
"He expressed his great happiness for the preparations he saw and the methods followed by Qatar to develop sports, education and training in general," local media reported.
Qatar's determination to become a regional leader comes despite its delicate position in the Middle East.
Home to the U.S. military's Mideast command post, Qatar is also is a member of the Arab League, which sometimes leads to foreign affairs dilemmas such as Washington's recent objection to the transfer of millions of dollars in aid from Qatar to the Hamas-led Palestinian government.
With geography in mind, security was paramount for Qatar authorities who pumped money and resources into protecting its image as a safe, conservative state.
"We have about 8,000 well-trained members (and) we also have the latest technology that were used in the Olympics," said Lt. Col. Abdallah Al Baker, an Internal Security Force spokesman.
Despite a small population _ about 750,000 including something like 60 percent foreigners, mostly from South Asia and the Philippines,oha has no concerns about the scale and cost of hosting an Olympics and considers itself a forerunner in the region.
Al Khulaifi, of the games organizing committee, said because of the games Qatar is now ahead of regional states.
"Qatar's success in hosting the Asian Games gives it some kind of international credibility that it is able to host any event whether sports, economic or political. I don't think any country in the region has this credit," Al Khulaifi said.