Liu Jing upset fellow Chinese Feng Yun to win the women's 100 meters hurdles at the Asian Games here on Sunday, ruling out a title defending effort from the 30-year- old.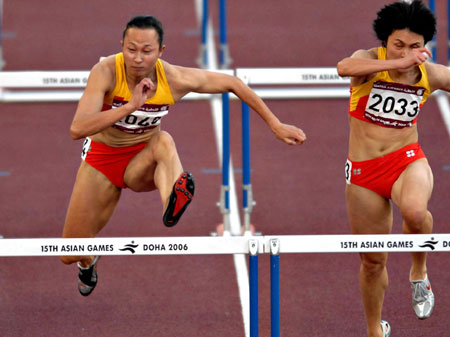 China's Liu Jing (left) and Feng Yun compete during women's 100m hurdles at the Doha Asian Games December 10, 2006. Liu, 29, finished first 12.93 seconds and 30-year-old Feng took the silver 13.10 seconds. [Xinhua]
The National Games title holder of China, 29, clocked 12.93 seconds for the gold medal, beating the former Asiad champion of Busan Feng Yun to the second on 13.10.
South Korea's Lee Yeon-Kyung took the bronze medal after timing 13.23 following the Chinese duo.
"Finally I made it! I'm very glad to take the gold," said an elated Liu.
"I don't think it makes any different whether Feng or I to take the title," she added.
It's not the first time that Liu Jing upset Liu Yun, another trainee of Sun Haiping who coaches Olympic champion and the men's 110m hurdles record holder Liu Xiang.
In last year's National Games of China, Liu Jing beat Feng in the same event for the national title.
World championships finalist Huang Xiaoxiao won China another gold medal from the track and field competitions after clocking 55.41 seconds at the women's 400m hurdles at the Asian Games.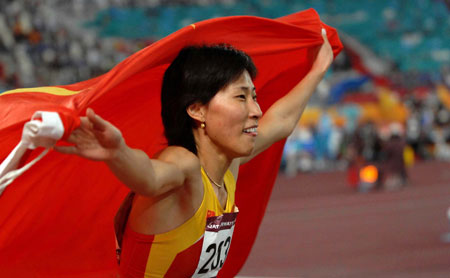 China's Huang Xiaoxiao celebrates after winning women's 400m hurdles 55.41 seconds at the Doha Asian Games December 10, 2006. [Xinhua]
Huang beat Japan's Satomi Kubokura to the second place at 1.08 seconds, while Malaysia's Mohd Khalid Noraseela took the bronze with a time of 56.85.