South Korea's Kim Hyung-chil died after being crushed by his horse in a heavy fall at the Asian Games equestrian event on Thursday.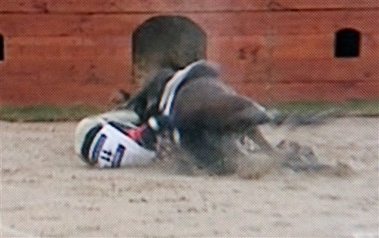 In this image taken from television, South Korean rider Kim Hyung-chil falls from his horse Bundaberg Black during the cross country section of the equestrian three day eventing competition at the Asian Games in Doha, Qatar, Thursday Dec. 7, 2006. Kim Hyung-chil died after the fall in rainy conditions on Thursday. He was 47.[AP]




With heavy rain pouring down on the Doha Racing and Equestrian Club, Kim's horse Bundaberg Black rolled over him after a fall at fence No.8 in the individual cross country event.

The president of Korea's National Olympic (KOC) committee Kim Jung-kil announced the fallen rider would be buried in the National Cemetery and receive the country's sporting medal.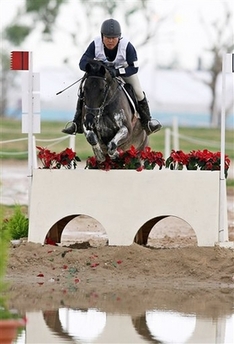 Kim Hyung-chil of South Korea, on Bundaberg Black, jumps during the Equestrian Cross Country event at the 15th Asian Games in Doha December 7, 2006. Kim was killed after falling off the horse. [Reuters]








Kim had a fine equestrian pedigree, his father Kim Chul-gyu competed at the 1964 Tokyo Olympics and is credited with popularising the sport in South Korea. Doha was the younger Kim's fourth Asian Games.

Kim won silver at the last Asian Games in Pusan on the same horse, organisers said.

The 47-year-old, the 11th eventer to tackle the course, was attended to immediately by medical staff but was found to have no pulse, Games medical chief Dr Abdulwahab Al-Muslh told reporters.

He was taken to hospital but efforts to revive him were unsuccessful and he was pronounced dead at 10:50 a.m. (0750 GMT), he added.

KOREAN DISBELIEF

A clearly devasted Chung Hyun-sook, chef-de-mission of the South Korean team, said a decision on whether the Korean team would continue in the equestrian event would me made after a meeting of athletes and officials.

"I am in charge of making sure all athletes make it home safely," she said haltingly.

"My heart is broken."

Organisers suspended the 32-rider event, which was being staged on a 2,470 metre course containing 23 fences, until later in the afternoon, though it is unclear if it will continue at all.

News of the death was felt throughout the Korean team.

"All the Korean team are a little bit low, everyone's faces are downcast," said Ryu Seung-min, a member of Korea's table tennis team.

"There's been some tears."

Games spokesman Ahmed Abdulla Al Khulaifi said the thoughts and prayers of organisers were with Kim's family.

"I can assure you we will make all the arrangements necessary to ensure the body of the athlete is returned to his family in Korea."

The vice president of the International Equestrian Federation Christopher Hodson expressed his sadness at Kim's death but rejected suggestions the eventing schedule had put too much stress on the horses.

"There is no reason to believe that any such factor was involved," he said.

"The federation has opened an investigation .... into this tragic accident."

Seoul-based Kim leaves behind a wife, seven-year-old son and 13-year-old daughter. His family would be arriving in Doha on Friday, Sook confirmed.

"It is a big loss for South Korean equestrian sport," Lee Jae-hoon, an equestrian official in Seoul, told reporters.

"He was the backbone of the sport (in South Korea)." Lee said. "We can't believe it."