Capping ten gold medals out of all 15 on offer in weightlifting competitions in the Doha Asiad, Chinese lifters have put their eyes at the 2008 Beijing Olympic Games.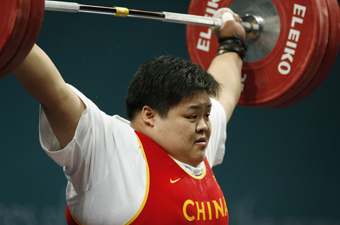 China's Mu Shuangshuang lifts during the women's +75kg weightlifting class at the Asian Games in Doha December 6, 2006. Shuangshuang later broke the world record with a lift of 139kg. [Reuters]


The Chinese team has clinched four gold and three silver from men's eight divisions and six gold and one silver from women's seven categories.
At the Athens Games last year, Chinese lifters collected five gold medals, two from men and three from women divisions.
After the five-day competition, China captured ten gold and four silver to take the lead in the medal standings while Kazakhstan followed with two gold and one silver. Thailand took the third with one gold, three silver and two bronze.
Ma Wenguang, president of Chinese Weightlifting Association, asserted that the abilities of a batch of new faces have been proved in the Asiad, the second biggest sports meeting in the world, especially in men's competition.
"Chinese lifters came to Doha not just for winning gold medals, they need more practice especially in big international events like the Asiad. These experience will help them, especially young buds, to keep calm in the Beijing Olympics," Ma told Xinhua.
"China still has advantage in lighter division, including men' s and women's. Young lifters in these divisions performed quite well."
Li Zheng, 20, took the gold medal in men's 56kg at 287kg. Qiu Le, 23, and his teammate Mao Jiao, 21, finished one-two in men's 62kg. Qiu's winning result of 317kg was eight kilograms short of the world record.
In women's 53kg division, the 18-year-old Li Ping overcame Junpim Kuntatean of Thailand with a total of 224kg to win women's 53kg gold, whose result was just two kilograms less than the world record, also set by Chinese Qiu Hongxia in the worlds this year.
China will not look down upon their rivals in Asia and world despite their golden journey in Doha. On the contrary, Chinese lifters keep alert to the rivals not only in Asia, but in the whole world.
"Our main rivals are not in Asia, but in Europe, especially in Russia. We have to work harder in training if we expect good results in the Beijing Olympics," said Ma Wenhui, head coach of Chinese women's team.
On the last day of the weightlifting events, Mu Shuangshuang of China beat Jang Mi Ran of South Korea for the first time in two years by breaking a world record.
"The superweight division has been in Korean's hands for two years and we took it back now, which is an encouraging boost for China when preparing for the Beijing Olympics," Ma added.
Five weightlifiting world records were broken at the Asiad, all of which came from the women's events and four of which were set by Chinese.
In women's 58kg division, Chen Yanqing rewrote three world records, and Mu Shuangshuang set the world record in the snatch in the superweight category.
Pawina Thongsuk of Thailand, gold medallist in the women's 75kg in Athens, broke the world record of the jerk at 142kg in women's 63kg, one kilogram more than the original mark.