Men's 110m hurdles world record holder Liu Xiang could run even faster, his coach Sun Haiping said in on Tuesday.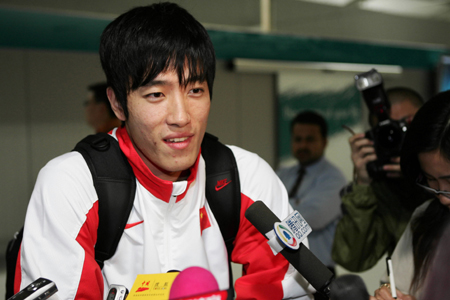 Olympic champion 110-meter hurdler Liu Xiang receives an interview at Doha Internationa Airport upon arrival December 5,2006. [Xinhua]


"He still has potential to improve, but not much," Sun told reporters after a training session at the Al-Arabi Sports Club in Doha.
"We hope to save the best for the 2008 Olympic Games," he added.
Sun said he has begun to adjust his training regime in order to tap Liu's full potential.
"I am gradually increasing his training load," he said.
Liu, who shattered the world record when he clocked 12.88 seconds at an IAAF meet in Lausanne in July this year, is looking to round off his sizzling season in style with a second Asian Games gold. Four years ago, he scored a runaway victory in the 110m hurdles, clocking a Games record of 13.27 in Busan, bettering compatriot Li Tong's 1994 mark of 13.30.
Sun predicted that Liu would clock a time of around 13.20 in Doha.
Twenty-stone Mu sets world record en route to victory
Mu Shuangshuang set a new world record in the snatch in the +75kg women's weight class to hand China its 10th gold in 13 Asian Games weightlifting categories yesterday.
Mu, herself weighing more than 132kg (290 pounds/20 stone), was rock solid as she lifted 139kg to beat by 1kg the previous record set by South Korean Jang Mi-ran in May this year.
Arch-rival Jang, who beat Mu to two world golds on her inferior bodyweights after the duo posted identical totals, was 4kg behind.
In a nail-biting clean and jerk, Mu nailed 174kg, and 178kg in her third and last attempt as Jang failed to lift a world record-equalling clean and jerk of 182kg for victory.
Mu won with an aggregate of 317kg, just 1kg under Jang's world overall record.
"I wasn't nervous before Jang's last lift," Mu said. "I just focus on my lifting and wanting to improve my own performance.
"The pressure was more on her because she won this medal last time around in Busan. I admit that I was nervous when I first arrived in Qatar but after touching the bar in training that all drained away.
"I never think about other competitors or medals when I'm on the stage," she said, adding that her exemplary performance would stand her in good stead come the 2008 Beijing Olympics.
"I will be one of the leading candidates for gold, that's for sure."
China crash out of women's team tennis
China's heavily fancied Li Na and Zheng Jie crashed on Tuesday against Uzbekistan to send their country out of the Asian Games women's team tournament.
Li, ranked 21 in the world, fell 6-4, 1-6, 6-1 to Iroda Tulyaganova while Zheng also slumped in three sets to Akgul Amanmuradova.
It left the Uzbek girls stunned.
"This is one of the best matches I've ever won because she is a very good player and she has good results in singles and doubles and she is a Grand Slam winner," said Tulyaganova, the defending singles champion.
"It is one of my best wins and I'm happy I could do it, especially here at the Asian Games."
Tulyaganova cashed in on Li's wayward forehand.
"I didn't really know what to expect. I just watched her during the game and noticed that her forehand was not strong and I played a lot on her forehand," she said.
"She made more and more mistakes and I think she was nervous."
Uzbekistan will play India in the semi-finals after the Indians, led by Sania Mirza, defeated Thailand.
Organizers threaten legal action against India's top shooter
Angry Asian Games organizers on Tuesday accused Indian shooter Rajyavardhan Rathore of "offensive behaviour" and threatened to take legal action if an unconditional apology was not made.
Rathore, the organizers said in a statement, had "made unwarranted and out-of-context allegations" and "unsportsmanlike comments" during his unscheduled training session at the Lusail shooting ranges last week.
Rathore, an Indian army colonel who won the country's lone medal at the Athens Olympics, had told the Indian media that officials had been "rude and unhelpful" at the ranges.
He also said that the lack of local Qatari involvement had ruined the Games.
"These Asian Games have been got together by the financial might of Qatar. Locals are not really involved in the running of the Games. The volunteers here are all paid workers from other countries. Frankly, their attitude is not very cheerful," Rathore was quoted as saying in the Indian media.