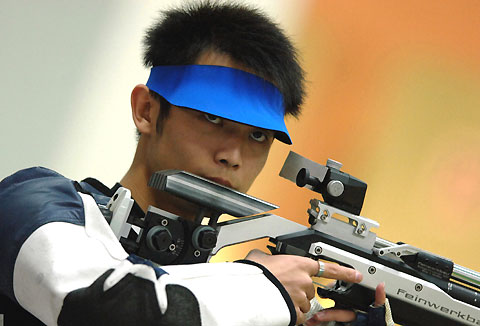 Olympic Champion Zhu Qinan reacts during the match. [Xinhua]


DOHA -- Everyone knew China would dominate the Doha Asian Games, but few knew they could do in such an extreme way.
They swept 16 out of 20 gold medals on offer on the first day's official competition on Saturday, getting off to flying start towards its seventh consecutive feat of topping the medal tally since 1982.
Japan took three golds, including two from their traditional territory of judo and one from the swimming pool. Judokas Sae Nakazawa won the women's 78kg class while Muneta clinched men's over 100kg title.
Their other gold medal was from swimmer Sano Hidemasa in the men's 400m individual medley.
South Korea, fighting for the second place against Japan at the Games, managed only one from Jang Sung Ho, who claimed the men's 100kg judo title.
China claimed its first gold medal in the men's 10m air rifle team event early Saturday morning. Olympic champion Zhu Qinan, Li Jie and Liu Tianyou beat South Korea with 1,786 points to win the Games' first gold.
"It's a great start for the Chinese delegation," said Duan Shijie, deputy chef de mission of the Chinese delegation. "This gold is a perfect morale-boost for our fellow Chinese athletes to compete in this Games."
Little-known Liu Tianyou emerged as the hero of the defending Asian Games champions as the 24-year-old scored the highest 598 points.
Three Chinese shooters became double winners as China went on to clean-sweep all the day's six shooting gold medals.
Liu won his second in the men's 10m air rifle by collecting 700.8 points.
China's trap team, including Chen Li, Wang Yujin and Zhu Mei, beat DPR Korea to clinch the trap team event. Chen then added the women's trap gold to her team title.
Olympic champion Du Li grabbed the women's 10m air rifle individual gold before leading the Chinese trio, also consisting of Zhao Yinghui and Wu Liuxi, to win the women's rifle team title.
China's sweetest title came from the men's gymnastics team event. They overcame a 1.500-point deficit before the last rotation to beat Olympic champions Japan with 377.100 points, extending their men's team dominance for the ninth successive time at the Asian Games history.
Japan scored 4.050 points to finish second and South Korea totalled 371.500 to settle for the third. South Korean Yang Tae Young suffered a foot injury over landing of high bar, but he struggled to take the pommel horse and earned his team a bronze.
China took away all three weightlifting gold medals in the women's 48kg, 53rd classes and men's 56kg category. They also ruled the swimming pool, seizing five out of six gold medals to leave the remaining one to Japan.
World bronze medalist Wu Peng struck a brilliant victory to retain the men's 200m butterfly title under the pressure of two strong Japanese rivals.
Zhou Yafei and Pang Jiaying each had two gold medals to their names when defending champion Zhou won the women's 100m butterfly in 58.39 after Pang beat defending champion and teammate Yang Yu for the women's 200m freestyle gold in 1:59.26.
In the last event later Saturday night, the two rallied with Luo Nan (breaststroke) and Zhao Jing (backstroke) to bring in another gold for China in the 4x100m medley relay.
Asian champion Ji Liping of China took the first ever 50m breaststroke gold and set the Games record in 31.52. The 50m breaststroke was added to the Asian Games program for the first time.
In judo action, Tong Wen was the only Chinese winner, beating Tserenkhand Dorjgotov of Mongolia with ippon to take the women's over 78kg title.
A total of 28 gold medals will be decided on the second day's competition on Sunday.