DOHA, Qatar _ The Asian Games officially opened with a spectacle of pyrotechnics, animatronics and boundless enthusiasm Friday as the people of Doha welcomed their region's biggest ever sporting event.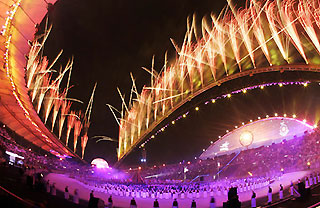 Fireworks explode over the Khalifa Stadium during the opening ceremony of the 15th Asian Games in Doha December 1, 2006. [Reuters]




Some 50,000 spectators packed the revamped Khalifa Stadium for the opening ceremonies, which started in steady rain.

International Olympic Committee president Jacques Rogge was among them, as was Sheik Hamad bin Khalifa Al Thani, head of Qatar's royal family. Other guests included Iranian President Mahmoud Ahmadinejad, Palestinian Prime Minister Ismail Haniyeh and Syrian President Bashar Assad.

The torch relay concluded in style. Mohammed bin Hamad bin Khalifa Al Thani, son of the emir and captain of the Qatar equestrian endurance team, emerged on horseback from a platform that rose from the center of the field to carry the Asian Games torch the final leg of its journey.

In a dramatic finale Al Thani rode the steed up stairs for the full height of the stadium to light a giant gyroscope-like cauldron as fireworks blazed in the background.

For the majority of the 10,500 athletes from 45 nations and territories attending these games, the opening ceremony signaled the end of years of preparation and expectation. For the people of Qatar it represented an opportunity to put their small, but wealthy, desert nation in the world's spotlight.

The details of the opening ceremonies, put together by David Atkins, creative director of the Sydney Games opener in 2000, were kept secret leading up to Friday.

"This ceremony, in all seriousness, is far more ambitious and greater in scale and scope than the Sydney ceremony," Atkins said this week.

The resulting spectacular appeared to live up to expectations, with the combination of live performance and hi-tech props prompting regular roars and applause in the sold out stadium, which will host the games athletics competition.

Each spectator was given a package of items that enabled them to interact with the performance.

At a cue from the ground announcer, the stadium was transformed into a sea of illuminated orbs, flashing glow sticks, whirling fans or Qatari national flags.

Meanwhile, large sections of the stadium were dominated by black and white, as many of the men wore the traditional white, Arabic ankle-length shirt, or thobe, while great numbers of the women wore the black abaya and scarf.

The performance inside the stadium was aided by a giant viewing screen spanning the top of the eastern stand, projecting backdrops and other visual effects.

Hong Kong popstar Jacky Cheung, Indian Bollywood star Sunidhi Chauhan, Lebanese artist Magida El Roumi and Spanish tenor Jose Carreras were among the performers.

| | | |
| --- | --- | --- |
| 1 | 2 | |