Barcelona have been ranked the number one "power brand" in soccer.
The Catalan European Cup champions pushed English Premier League Manchester United into second place in the list compiled by London-based sponsorship agency Global Sponsors.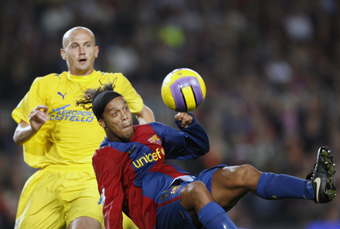 Barcelona's Ronaldinho (down) of Brazil kicks a ball before a goal against Villarreal Pascal Cygan during their Spanish First Division soccer match in Barcelona November 25, 2006
[Reuters]




The list, released at the Soccerex business and sport conference in Dubai, ranked Real Madrid in third with Chelsea, AC Milan, Bayern Munich following.

Arsenal, Liverpool, Inter Milan and Lyon completed the top 10.

The sponsorship agency compiled the list using a survey of 100 contacts and clients.

Using a points system, respondents ranked clubs over a number of criteria including history of winning competitions, quality of current sponsors, matchday attendance, profile of the club's manager and the quality and capacity of their stadium.

"Barcelona's international appeal has been enhanced by global icons such as Ronaldinho and manager Frank Rijkaard, who are widely recognised," the agency's commercial director Michael Stirling said.

"The club has developed innovative ways of reaching a global audience."

NEGATIVE PUBLICITY

Reflecting on Manchester United's second-place spot, Stirling said: "Manchester United were perhaps an unlikely candidate to finish so far up in the survey given the lack of success in recent times and widespread negative publicity the club has suffered since the hostile (Malcolm) Glazer takeover.

"However, respondents acknowledged that it is not easy to build a truly global brand and United were well on their way to doing so before the distraction of the takeover."

Stirling said recent success on the pitch had improved perceptions, while players such as Cristiano Ronaldo and Wayne Rooney enhance brand value and recognition.

"No club can compete with the success of Real Madrid's sporting success of winning the European Cup nine times, which entitles it to finish in the top three," Stirling said of the Spaniards.

"Its purchases of world class players or at least world class marketing icons such as David Beckham, Luis Figo, Zinedine Zidane and Ronaldo, has brought with it a global fan base."

The agency said Chelsea had powered its way up the list by drawing global attention with big money signings of the world's biggest names.