PARIS - Italy captain Fabio Cannavaro won the Golden Ball award Monday, the first defender in 10 years selected as Europe's best player.
Cannavaro, who played for Juventus last season but moved to Real Madrid after helping Italy win the World Cup, got 173 points in France Football magazine's annual poll of 52 journalists from around the world. Juventus goalie Gianluigi Buffon was second with 124 points, followed by Arsenal striker Thierry Henry with 121.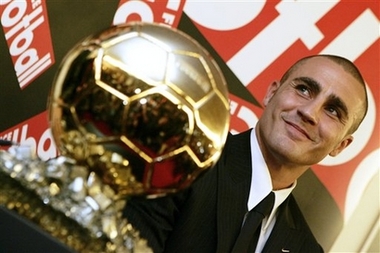 Real Madrid's Fabio Cannavaro, the captain of Italy's soccer World Cup champion team, poses with his Golden Ball award during a press conference at the headquarters of French sports daily 'L'Equipe', Monday, Nov. 27, 2006 in Issy-les-Moulineaux, outside Paris. Cannavaro won the 2006 Golden Ball trophy, the French football magazine's prestigious award as Europe's top player. [AP]

FC Barcelona playmaker Ronaldinho, who won the award last year, was fourth with 73 points. France's Zinedine Zidane was fifth with 71. Cannavaro is the third defender in 30 years to win - Matthias Sammer won the award in 1996 and Franz Beckenbauer in 1976.
He was also the fifth Italian to win, following Roberto Baggio (1993), Paolo Rossi (1982), Gianni Rivera (1969) and Argentine-born Omar Sivori (1961).
"This is a double honor," Cannavaro said. "It is given to the best player, and the fact I am a defender makes it even more special."
Cannavaro and Buffon were among Italy's best players at the World Cup in Germany, where the team conceded only one goal before the final against France, which Italy won on penalty kicks. Cannavaro made his 100th international appearance in the final and was voted the World Cup's second-best player behind Zidane.
"It is a fantastic award, the crowning achievement of an exceptional year," said Marcelo Lippi, who coached Italy to the World Cup title. "And Cannavaro as captain of a phenomenal group brings it back a bit for everybody."
The 33-year-old Cannavaro also has also played for Napoli, Parma and Inter Milan. At Parma, he played 212 league games and formed one of Serie A's best defensive partnerships with Lilian Thuram.
"I think he deserves the award if we take into account the World Cup as a whole," Thuram told French television.
Henry, the English Premier League's leading scorer with 27 goals last season, was also the top marksman in 2002, '04 and '05. He was voted player of the year for a record third time by English soccer writers.
"Henry has amazing qualities," Cannavaro said. "I'm sorry he couldn't win it this year."