The Netherlands kept rolling Sunday with a 3-2 triumph over Olympic and World Cup dual champion China to book a berth in the top eight of the 2006 women's volleyball World Championships.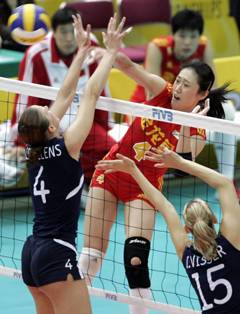 China's Liu Yanan (C) spikes the ball over Ingrid Visser (bottom R) and Chaine Staelens (bottom L) of the Netherlands during their second round match at the FIVB women's Volleyball World Championship in Osaka, western Japan, November 12, 2006.[Reuters]


With the victory, the Netherlands ranked third in the Group. While China, who ranked fourth, also advanced to the top eight.
Top four teams could advance into the top eight of the World championships.
Downing the first two sets, the Netherlands, who kept a five-win three-loss record in the tournament, played its best volleyball to beat China 21-25, 17-25, 25-23, 25-22, 15-12.
Chaine Staelens led the game with 28 points for the Netherlands, while Manon Flier and captain Ingrid Visser added 20 and 17 respectively.
Losing the first two sets and falling behind 17-19 in the third, the Netherlands launched a brilliant scoring trend with a 6-1 run to lead the game and took one set back 25-23.
Tieing 5-5 in the fourth set, the Netherlands had a 4-1 run to take control and never looked dangerous. After Li Shan of China had a fast-breaking attack to make it 21-21, the Netherlands concluded the set with a 4-1 run and Staelens scored the set points with a kill for the Netherlands with 25-22.
The match seemed frustrating for the Chinese, who squandered early leads, and cut its deficit to 12-all in the deciding fifth set before a kill from Staelens closed out the match.