WASHINGTON - Champion figure skater Michelle Kwan has found a new way to represent her country on the international stage.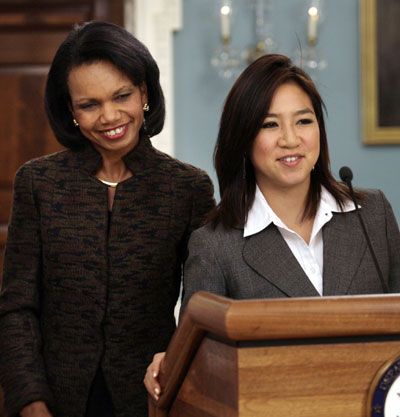 U.S. Secretary of State Condoleezza Rice (L) smiles as figure skating champion Michelle Kwan speaks at the Treaty Room of the State Department in Washington November 9, 2006. Rice named Kwan the public diplomacy ambassador to represent American values especially to young people and sports enthusiasts. [Reuters]


Secretary of State Condoleezza Rice announced her appointment Thursday as the nation's first public diplomacy envoy - part of program to help improve the nation's image abroad.
"She is devoting her good name and her patriotism to help further our nation's public diplomacy efforts," said Rice.
Rice said Kwan's experiences as a world class figure skater, who won her first world title at 15, are "a deeply American story" admired by many.
"As an athlete, I've always been very proud to represent the United States," said Kwan, 26, who began competing internationally when she was 12. The California native's parents immigrated to the U.S. from Hong Kong before she was born.
Since the 1990's Kwan has won practically every major figure skating title, except an Olympic gold medal. She was forced to withdraw from the 2006 winter games because of injuries.