Brazil came out unbeaten to reach the semi-finals of the 2006 women's volleyball World Championship as the Brazilians eased past China 3-2 here on Thursday.
Brazil, who won their third straight World Grand Prix title and sixth in all at Italy last month, rallied from two sets down to beat the Olympic champion China 24-26, 20-25, 25-21, 25-16, 19-17.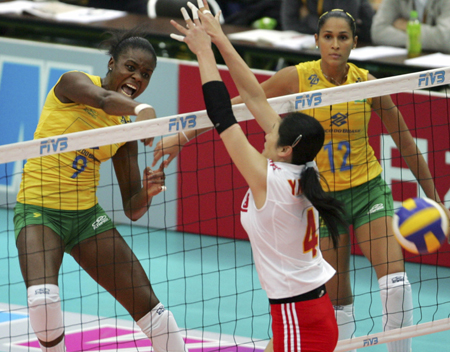 Brazil's Fabiana Claudino (L) spikes the ball through China's blocker Liu Yanan (C) as Claudino's teammate Jaqueline Carvalho watches during their second round match at the FIVB women's Volleyball World Championship in Osaka, western Japan November 9, 2006.[Reuters]

"I felt today's game was a really big game, it is just like the final. We blew some winning opportunities, but finally we came through." said Brazil's head coach Jose Guimaraes.

Jaqueline Carvalho had 21 points to lead Brazil to its fifth straight victory of the tournament, Walewska Oliveira and Sheilla Castro added 18 and 16 respectively.

With the win, Brazil had 10 points and faces a clash with Russia to decided the top of the group on Sunday.

Russia also had 10 points after defeated the Netherlands 25-17, 25-18 25-16 early on Thursday.

Brazil had too many unforced errors and lost the first two sets.But after their injured captain Helia Souza back on court in the third set, the Brazilians began to show their power over the net.

Chen Zhonghe, head coach of China, praised his players and said, "My players tried really hard. We played according to our usual style in the first and second set. But in the third and fourth sets, Brazil's serving improved and their receiving improved dramatically."

"I could feel a certain amount of difference between Brazil and China. They were good at rebuilding an attacking trend and we had problems on that point."

Brazil managed a 5-0 run to take the lead 18-14 and another 4-0 run shortly afterward to extend the gap at 23-18.

China clawed back to 21-24 but could not stop Fabiana Claudino's spiking from the left side and Brazil took one set back with 25-21.

China did not improve their attack or defense in the fourth set, while Brazil continued their winning momentum to made it 2-2 with 25-16.

In the deciding set, China again led the game at 8-5, but they made several mistakes in serving and attacking and Brazil leveled the match at 12-12.

"I thought we may loss the match when we fell behind at 5-8, but fortunately we finally win the whole match." said Guimaraes.

After tying at 17-17, Claudino again helped Brazil to the match point and Claudino and Castro combined to block Wang Yimei's spike to seal the victory for Brazil.