China Olympic team coach Ratomir Dujkovic forecast a promising future for Chinese soccer and urged fans to trust in his powers ahead of an Asian Cup warm-up match over the weekend.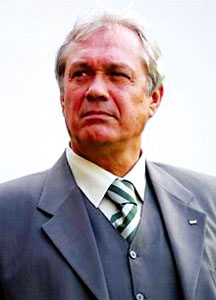 Ratomir Dujkovic.[File Photo]

The 60-year-old Serbian will take charge of the under-23 squad for the first time in a friendly against Cameroon in Guangzhou on Saturday.

"I have discovered that our team has talented players with a lot of potential," Dujkovic told the Beijing Times.

Dujkovic had his first full training session with the team on Sunday.

"Although I am not naming names, I believe that this is absolutely a team with prospects."

Dujkovic said he had "already found some ways to solve some problems with the team."

Last month, after signing a contract until the end of the Olympics as coach of the national under-23s and technical director of the senior team, Dujkovic said China would need to be more aggressive and score goals on its way to a targeted semifinal place at the 2008 Beijing Games.

He then watched the under-21 side lose to Japan in a friendly in Tokyo last week.

Dujkovic said fans should have faith in his ability to turn China's flagging soccer fortunes around, given his success in taking African side Ghana to the knock-out stages of the 2006 World Cup finals.

"Ghana has only 2 million people, but they were able to make the last 16 at the World Cup. China has such a huge population, so Chinese football can definitely make similar achievements."

Dujkovic faces an uphill battle making China, currently 87th in FIFA world rankings, competitive in less than two years.

Last week, Dujkovic named a provisional 27-man squad for next month's Asian Games in Doha, Qatar.

Elsewhere, Dutch club PSV Eindhoven has offered Shanghai United 800,000 euros (US$1.02 million) for 17-year-old Chinese goalkeeper Wang Dalei.

Wang, one of the most talented young players in China, could join the Dutch champion by the end of the year, Shanghai United's deputy general manager Liu Jun told the China Youth Daily.

"If negotiations are smooth, the entire transfer process may be completed by December 31," Liu said.

PSV sent a "letter of intent" last week containing an agreement to a 10 percent sell-on clause. It also allowed for Wang to play half a season in the Chinese Super League in the first three years after joining PSV, the paper said.

The report comes after PSV invited Shanghai Shenhua midfielder twins Sun Xiang and Sun Ji to a two-week trial with the club in November. The pair are to arrive at PSV in mid-November, according to the club's Website.

PSV is not the first club to show an interest in Wang, who had a week-long trial with Italian Serie A club Inter Milan earlier this year.

Wang is one of three goalkeepers named in China Olympic coach Ratomir Dujkovic's 27-man squad for next month's Asian Games in Doha.