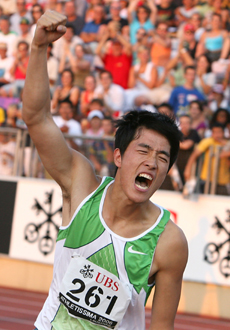 110m hurdles world record holder Liu Xiang of China.[File Photo]

110m hurdles world record holder Liu Xiang will lead the Chinese star attractions at the upcoming Doha Asian Games next month. The official website of the Doha Asiad posted an article Sunday.

China's world record hurdler Liu Xiang has been told to stay focused if he wants to retain his Asian Games title at Doha 2006.

The 23 year-old Athens Olympic champion, who set a new 110m world record of 12.88 in Lausanne in July this year, is looking to round off his record-breaking season in style with a second Asian Games gold in Doha.

Despite starting as overwhelming favourite, coach Sun Haiping is warning there can be no slacking for the Chinese superstar.

"It's the end of the season but we still have to work hard," said Sun, who is warning Liu not to be complacent in his preparation for the high hurdles crown.

He added: ¡°If I have to, I will make Liu train until his head spins."

Liu is one of the big names heading for Doha but hasn¡¯t been in record-breaking form as his season comes to a close.

"If the Asian Games were to take place tomorrow Liu would probably win in about 13.10 seconds," the 51 year-old coach told the Beijing News.

That sort of time would be two-tenths of a second faster than the Asian Games record he set as a 19 year-old in Busan, South Korea in 2002, but Sun wants him to put in a performance worthy of a world No 1 ¨C and knows nothing can be taken for granted.

Less than a month after breaking his world record in July, Liu dropped to No 2 in the International Association of Athletics Federations (IAAF) world rankings ¨C and only returned to the top after winning the IAAF World Athletics Final in September.

Prior to this season Xiang had shared the previous world record of 12.91 with British sprinter Colin Jackson, who held the record since 1993.