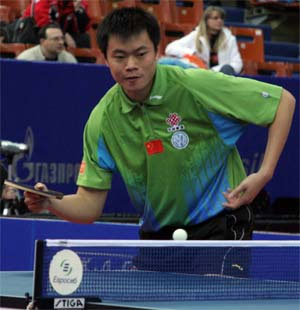 Hou Yingchao of China, winner of the Men's Singles title at the Eurosib Russian Open in 2006. [ITTF]

Chinese young gun Hou Yingchao tasted his first ever men's singles title on the ITTF Pro Tour, as he won the final of the Russian Open table tennis tournament in St Petersburg.
Hou, the only Chinese participating in the tournament, survived a seven-game thriller to beat Croatian Zoran Primorac 6-11, 11-8, 13-11, 11-8, 9-11, 4-11 and 11-8.
The 24-year-old Chinese added the doubles crown to his collection. He teamed up with Lin Ju to win the final 9-11, 11-6, 11-8, 11-4 and 11-6 over Singapore's Gao Ning and Yang Zi.
In women's play, top seed Li Jiawei from Singapore pocketed the titles in both the singles and doubles competition.