BEIJING - Houston Rockets superstar Yao Ming has not been included in China's Asian Games basketball squad, which is led by former Miami Heat player Wang Zhizhi.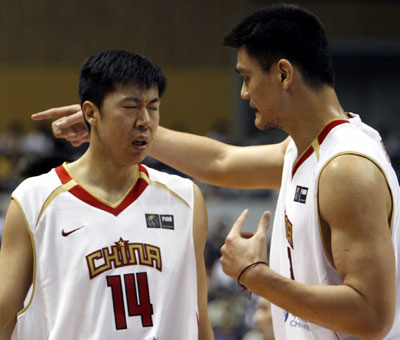 China's Yao Ming (R) and Wang Zhizhi react during their loss to Italy in the first round of the world basketball championships in Sapporo August 19, 2006. [Reuters]

Yao is committed to the Rockets and his multimillion dollar endorsement deals with the regular season starting this week, leaving 2.14-meter (7-foot, 1-inch) center Wang as their key player.
Sun Yue, Liu Wei, Yi Jianlian, Du Feng, Zhu Fangyu, Wang Shipeng, Li Nan, Zhang Jinsong and Mo Ke form the core of their 16-man squad, which won last year's Asian Championships.
Wang is back in the fold after refusing to play for China as he pursued a four-year NBA career with the Dallas Mavericks, Los Angeles Clippers and Miami Heat, which meant he missed the last Asian Games in Busan in 2002.
A public apology in April this year saw him return to national duty as China seek to regain the Asiad title they lost four years ago in a thrilling final won by South Korea 102-100 in overtime.
It was the first time in 20 years China has failed to take gold at the Asian Games.
Their main challenge at the Games in Doha from December 1-15 will again be from South Korea, with Lebanon, host country Qatar, and Japan also in the hunt.
Squad list:
Chen Jianghua, Du Feng, Hu Xuefeng, Huo Nan, Li Nan, Liu Wei, Mo Ke, Sun Yue, Tang Zhengdong, Wang Shipeng, Wang Zhizhi, Yi Jianlian, Zhang Jinsong, Zhang Qingpeng, Zhang Songtao and Zhu Fangyu.