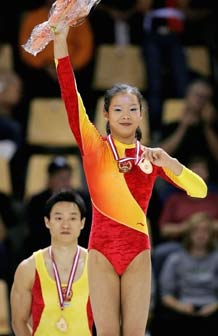 China's Cheng Fei celebrates on the podium her gold medal won on the floor as her compatriot and gold medallist in the parallel bar event Yang Wei (L) looks on at the 39th Artistic Gymnastics World Championships in Aarhus, Denmark, October 21, 2006. [Reuters]
Aarhus, Denmark - Yang Wei and Cheng Fei claimed two more gold as China lay the groundwork for the 2008 Beijing Games by bringing their tally to an unprecedented eight titles on the final day of the world gymnastics championships.
No one could match the Chinese as the United States suffered their worst world showing since 1999, with Japan's Hiroyuki Tomita, the defending all-around champion, failing to lift his Olympic title-winning team.
As the new judging system made its debut for the first time at a global competition, three new country's won their first ever world titles.
Fifteen-year-old Vanessa Ferrari won Italy's first women's gold in the all-around as Elizabeth Tweddle won Britain's first with her uneven bars success and Australia's Philippe Rizzo on the high bar.
But the stars of the championships were the Chinese, and in particular Yang and Cheng who wrapped up the competition by winning the parallel bars and floor respectively on Saturday.
Between them they helped their country to six titles out of the 14 on offer during the week.
Yang, 26, was the most successful man, winning three gold.
He helped China defend their men's team title ahead of Russia and Olympic champions Japan.
And after having to settle for second best so often in individual events at worlds he took the all-around gold ahead of title-holder Tomita and Germany's Fabian Hambuechen.
"This is the best result for us in the history of gymnastics. I wouldn't say I'm surprised though," said Yang, the all-around silver medallist at the 2000 Olympics and 2003 world championships.
"I can only congratulate the team and hope we do as good as this in Beijing."
Cheng, 18, closed her championship with an acrobatic floor routine which gave her a third title.
Despite failing to make the all-around final she defended her vault crown and helped China win their first women's team title at the expense of the injury-hit US defending champions with Russia finishing third.
Chen Yibing, 22, won rings gold, as Xiao Qin, 21, successfully defended the pommel horse on Friday.
Romania, after a slow start to their campaign, were lifted to second on the medals table by veteran Marian Dragulescu's floor and vault gold.
The Romanians finished with four medals - two gold, a silver and a bronze.
The US were seventh best with five silver and one bronze, just ahead of Japan with three medals - two silver and a bronze.
Their men's team had their worst ever showing, failing to qualify for the team final after finishing 13th in preliminaries, with their only medal a bronze won by Alexander Artemev on the pommel horse.
The US women, who at the 2005 worlds, won nine medals - four gold, four silver and one bronze - were hit by injuries.
Chellsie Memmel was forced to withdraw from her all-around title defence because of a shoulder injury, while Anastasia Liukin was limited to the team event and her uneven bars defence.
Liukin was shocked by Tweddle on that apparatus and took silver, with Alicia Sacramone, failing to defend her floor title, and winning silver on the vault behind Cheng.
Again it was Cheng who ended the final US title hope on the floor.
She scored 15.875 to push all-around silver medallist Jana Bieger (15.550) into silver medal position.
"I did the best I could," said Bieger, the most successful American after also winning silver in the all-around and team.
Ferrari, who single-handedly lifted Italy to fourth on the medals table, took her second bronze Saturday a day after her third on the uneven bars.
But she missed out on a medal on the beam as, like in the all-around final, she fell from that apparatus to finish sixth in an event won by Ukraine's Iryna Krasnianska.
Australia were third best as a result of 25-year-old Rizzo's gold and Prashanth Sellathurai's pommel horse silver on Friday.
Rizzo scored 16.125 to push defending champion Aljaz Pegan of Slovenia into silver-medal position, 15.900, with Greece's Vlasios Maras taking bronze.
Earlier Yang took parallel bars gold ahead of Tomita, who had to settle for joint silver with South Korea's Yoo Won Chul.
Tomita also finished second in the all-around after losing his title to Yang.
Dragulescu, meanwhile, claimed his sixth world gold.
A day after winning his third world floor title the 26-year-old from Bucharest took his third vault gold with a combined 16.487 after two jumps.
Dimitri Kaspiarovich of Belarus took silver (16.312) with Hambuechen taking bronze (15.825).