The head of Formula One motor racing in China is being questioned in connection with the corruption scandal that has led to the sacking of a senior official in Shanghai.

Yu Zhifei, general manager of the Shanghai circuit, which hosts Formula One and Moto Grand Prix, is assisting investigators in the graft case, said the official Shanghai Securities News, citing sources familiar with the situation.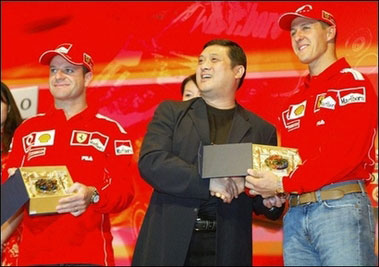 Yu Zhifei (C), China's F1 chief, Michael Schumacher (R) and Rubens Barrichello (2nd L). Yu is being questioned in connection with the corruption scandal that has led to the sacking of Shanghai's top politician. [AFP]


Shanghai's biggest corruption scandal, involving the city's billion-dollar pension fund, saw the ouster last month of the city's top Communist party chief Chen Liangyu.

Several senior government officials and business executives have also been sacked in an investigation that has seen 100 central government officials dispatched to China's commercial hub.

The newspaper said Yu was under questioning concerning the "corruption case" and the existence of "illegal operations" at the track.

Yu was not immediately available for comment on Wednesday, as his mobile phone was turned off.

The spokesman for the Shanghai International Circuit Co., Liu Jianyou, refused to say on Wednesday where Yu was but said he was expected to turn up to a staff meeting later in the day.

"I'm not obliged to tell you his whereabouts," Liu said.

"I was with him these couple of days. We are going to have a staff meeting today and as general manager he always shows up to this kind of meeting."

Reports of Yu's involvement began to surface just ahead of Shanghai's third hosting of the F-1 race at the end of September.

Chinese-language Hong Kong newspapers said Yu, who was also the former boss of Shanghai Shenhua football club, was implicated in the pension scandal due to his links to Chen.

Chen's administration was responsible for bringing the elite motor racing sport to China, with the city spending a minimum of 240 million dollars on the German-engineered, state-of-the-art track.

Yu is said to be friends with Chen and the two worked together in the district of Huangpu, when Chen was district chief.

When asked by AFP on September 29 if he was cooperating with Beijing's investigation into graft scandal, Yu denied it.

"No, it's not true. Don't believe the newspaper," he said.