AARHUS, Denmark, Oct 17 - China made a stirring comeback from a dreadful start to snatch the men's team gold medal at the world gymnastics championships on Tuesday.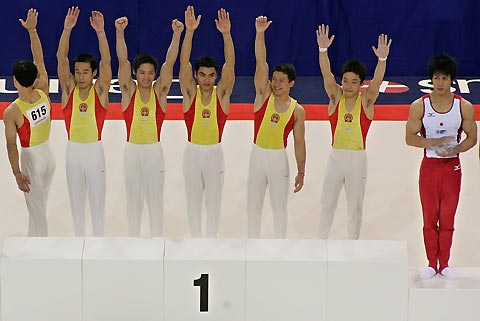 Gymnasts from China celebrate their gold medals win on the podium following the men's team final at the 39th Artistic Gymnastics World Championships in Aarhus, Denmark, October 17, 2006. Team China won the gold medal on Tuesday followed by Russian silver and Japan's bronze. [Reuters]
Error-filled displays left China trailing in seventh place after the first two rotations before they defiantly hauled themselves up the standings to clinch the title with a total of 277.775.
It was their fifth triumph from their last six appearances and made up for their 2004 Athens Games flop.
A dramatic fall by Zou Kai from the horizontal bar on their final performance did not stop China from eclipsing second-placed Russia by 2.375 points, while Olympic champions Japan settled for bronze.
China had come to Aarhus to prove a point in the run up to hosting the 2008 Olympics in Beijing.
With mission accomplished, in typical understated manner they turned to their flag-waving fans in the stands and acknowledged the cheers.
"We are very happy to win the world championships because we want to repeat this performance in 2008," Yang Wei told reporters.
"We had some problems with our performances today but we did better and better and won at the end."
Japan had been expected push China all the way after finishing second in qualifying but endured a miserable evening to end up with a combined score of 274.800
The fact that the two Asian nations ended up with a medal was a remarkable achievement considering they were rooted to the bottom of the standings after an abysmal start on the floor.
Both had ambitious elements in their routines but their failure to execute these skills cleanly proved costly in the early stages.
Zou had been China's top performer on floor during the preliminaries but was their weakest link on Tuesday when he fell flat on his face and out of the marked area following his opening tumble.
He was unable to stop the flow of mistakes when he stepped out again on his next tumbling sequence.
PATCHY FORM
After picking up 0.6 point deduction, his score of 14.050 appeared to leave China out of the running.
All-round title contender Yang continued China's patchy run of form when he slipped off the pommel horse just minutes later to draw 13.600 from the unimpressed judges.
With the 6-3-3 format -- in which only three of the six gymnasts from each team compete on any one apparatus and all their scores count towards the team total -- leaving no room for error, China knew they had little time to get their act together.
But after solid performances on the rings, China showed their class on the vault.
Once China had moved into second place thanks to Liang Fuliang, Chen Yibing and Yang nailing their soaring somersaults to near perfection, they knew victory was theirs for the taking and they did not disappoint.
In the end, Chinese gymnasts earned top score in four of the six rounds.
A consistent exhibition on all six apparatus helped Russia to gatecrash what had been expected to be a duel for the crown between the two Asian superpowers.
Alexander Safoshkin's powerful display on the rings helped the European champions to their best team result at the worlds since claiming a silver in 1999.
Japan's all-round champion Hiroyuki Tomita will be hoping his fortunes improve in time for the individual final on Thursday after he stumbled off the floor and drew gasps from the crowd when he crash-landed from the horizontal bar.
Romania, Belarus, Canada, Germany and Switzerland completed the top eight.