SINGAPORE, Oct 13 - Chinese striker Yang Changpeng's dream of playing English Premier League soccer could be a step closer to reality after he was invited for a month-long stint at Bolton Wanderers.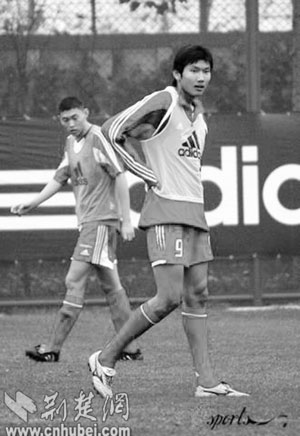 Yang Changpeng from Wuhan Huanghelou Soccer Club of China Super League (CSL) [cnhubei.com]
The top-flight English club confirmed Asian reports when it said Yang and team mate Zhou Liao will arrive at the club as part of Bolton's partnership with Chinese Super League club Wuhan FC.
The pair will spend a month training with Bolton's academy, the English club said on its Web site.
"We always dreamed of this moment and the wait appears to be over. It is very exciting," Singapore's Today newspaper on Friday quoted Yang as saying.
"It will be a learning experience, but we will strive to perform to the best of our abilities."
Yang, who stands a little over 2.05 metres (6 ft 9 in) tall according to Bolton, has represented China at under-20 level, while Zhou is a strong midfielder.