TORONTO, Oct 9 - At nearly 7 feet 9 inches (236 cm) tall, with size 19 feet, Chinese basketball player Sun Ming Ming dreams of joining the National Basketball Association.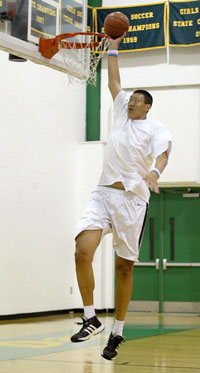 Sun Ming Ming of China, who plays for the United States Basketball League's (USBL) Dodge City Legend, dunks a ball during a workout session in Greensboro, North Carolina, October 6, 2006. At nearly 7 feet 9 inches (2.36 meters) tall and with size 19 feet, Sun dreams of being in the NBA. Picture taken October 6, 2006. [Reuters]

But what has made him so tall and given him dreams of following his countryman Yao Ming into the U.S. professional ranks was also a threat to his life.

A tumor at the base of his skull was pressing on his pituitary gland and making him grow, and had to be surgically removed last year. Without the surgery, he faced the possibility of heart failure and early death. A tiny piece of tumor remains.

"Yao Ming is the pride of all Chinese people," Sun said from Greensboro, North Carolina, where he is training to improve his speed and agility.

"Could I be like him one day? This is not something that can happen just because I wish it to happen. I need to work hard and even if I work really hard, I don't know if it will ever happen."

Sun arrived in the United States from China in February 2005. Sports agent Charles Bonsignore says he took a risk by taking on the then lead-footed player and agreeing to raise funds for medical bills that already exceed $100,000.

"I said, 'Let's see what we can do and make this guy into an NBA player,'" Bonsignore said from his office in Ventura, California.

Sun was eligible for the 2005 National Basketball Association draft, but wasn't chosen because of his lack of stamina. He landed awkwardly and felt winded often.

Sun's huge feet were covered with corns and welts, his toes were gnarled and an X-Ray showed the bones in his toes were deformed because he didn't have shoes that fit him properly while he was growing up.

Then doctors made a more shocking discovery: a tumor was crushing Sun's pituitary gland and it was secreting excess growth hormone that caused him to grow and grow.

BLESSING AND CURSE

Dr. Hrayr Shahinian, director of Los Angeles-based Skull Base Institute, who performed the brain surgery on Sun in September 2005, said the condition was a blessing and a curse for Sun, who barely needed to jump in order to dunk a ball.

"It is a curse because this disease, if it is left alone, if untreated, can be fatal and he may die of heart failure right on the basketball court," he said.

Robert Pershing Wadlow, who suffered from gigantism and died in 1940 from a foot infection at the age of 22, is recognized by the Guinness World Records as the tallest man in history at 8 feet 11 inches (272 cm). The tallest living man is Xi Shun at 7 feet 8.95 inches.

By all accounts, Sun's recovery from surgery has been successful. But a tiny piece of tumor remains lodged in his skull close to the carotid artery, the main blood vessel from the heart to the brain, and the optic nerve.

Treatment could include radiosurgery or special drugs, both of which are costly.

If he succeeds in playing in the NBA, Sun would be the tallest player in its history, overtaking Manute Bol and Gheorghe Muresan, both 7 feet 7 inches (231 cm). Yao Ming and Shawn Bradley, both 7 feet 6 inches (229 cm), are the tallest players currently in the league.

| | | |
| --- | --- | --- |
| 1 | 2 | |