The major meetings may be over, but not all of the world's top athletes are winding down.
China's Olympic champion and world record holder in the 110 metres hurdles, Liu Xiang, is among a handful who will still be competing in South Korea today.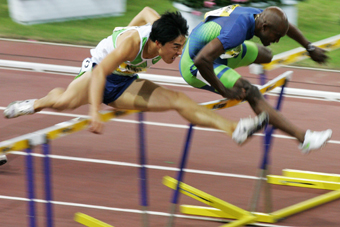 Liu Xiang of China (L) and Allen Johnson of the U.S compete in the 110 meters hurdles during the Shanghai Golden Grand Prix athletics meet September 23, 2006.[Reuters]
Organisers of this late-season track and field event are hoping his presence at the Daegu International Games will boost attendance at the 66,000-seater stadium and also the city's bid to host the 2011 World Championship.
A successful meeting will provide a powerful argument for Daegu in March when the IAAF meet in Mombasa to decide between them and several other cities who have already indicated they will lodge applications before December 1.
And Liu is likely to be wheeled out again to support their bid before the final decision is made. It is a task he apparently relishes, although it has been a busy year for the 23-year-old, highlighted by his world record run in Lausanne in July. "I am a little bit tired," he admitted.
While Liu will be the major personality on view at the second-ever Daegu International, there are certain to be more significant and competitive events than his 110m hurdles and at least one of the athletes involved, American sprinter Lauryn Williams, finds herself pursuing a personal goal even at this late stage of the season.
Williams won silver at the Athens Olympics and gold at the 2005 World Championship, but a hamstring injury has troubled her throughout this year and needs further treatment.
Williams said: "I've battled with the problem all season and not been very successful, but I don't want to finish the year on a down. That's why I'm here. It's a long way to travel, but I want another chance to go out with a personal best."
Williams knows what to expect from Daegu. She was the biggest name at the inaugural meeting 12 months ago and has already told the newcomers about the experience. "I've said they can expect a very good meeting because it's a great place to compete with a fast track," she said. "There is no reason why we can't all do fast times.
"I would give them the [World] Championships," said Williams. "The organisation is first-class, it's a fine stadium and people here want to watch athletics. They would get my vote."
Wallace Spearmon is the runner most likely to justify Williams' prediction of fast times when he competes in the 200m.
"I feel I'm just starting to peak, I'm just getting into shape after missing some training in the middle of the season," said Spearmon, world silver medallist at 200m last year. "The track looks quick and, if people show up, I feel I have another good performance in me."
Other big names taking part in this end-of-season meeting include Russian pole vaulter Yelena Isinbayeva and Swedish high jump star Stefan Holm.