China's 08 Olympics soccer team were beaten 2-0 by their Japanese counterparts in a friendly on August 7 held in Qinhuangdao, Hebei Province.
This match seemed to be auguring things to come as a month later, defending champions China were downed by North Korea 2-1, losing their spot in the semifinals of the AFC U-17 Championship.
Adding insult to injury, the national team, coached by Zhu Guanghu, would obtain more red cards than goals in two games against Singapore, casting a shadow on their bid for qualification for next year's Asian Cup finals.
"Deviating from the correct path, more than a decade of professional reform has produced very little effect," the 62-year-old Jin Zhiyang was quoted by China Youth Daily as saying on September 14.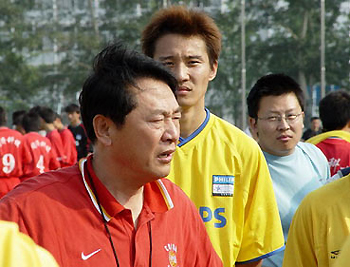 Jin, former head coach of Beijing Guo'an and Tianjin Taida and assistant coach of the national team during the 2002 World Cup.[File Photo]
Jin, former head coach of Beijing Guo'an and Tianjin Taida and assistant coach of the national team during the 2002 World Cup, retired a couple of years ago due to health reasons. He is now training the school team of Beijing Institute of Technology.
"After staying in professional teams for over 40 years, now I can look from a new angle at China's soccer, which has reached its nadir," he said. "Before professionalism crept into the game, we trained ace players like Gao Feng, Fan Zhiyi, Peng Weiguo and Hao Haidong. However, very few China Super League (CSL) players can match them, and the disorganized, incident-packed CSL matches have lost popularity."
"Whenever something wrong occurred, all the policy-makers eager for quick success took only stopgap measures. Without a long-term plan, nobody can say what Chinese soccer will look like in 10 or 20 years. Even a short-term roadmap spanning next three or five years is hard to imagine."
Unlike China wavering on which strategy to follow, "as far as I know, Japan has made a 50-year program for soccer development and its national team has thus developed its own style," Jin said.
What's more, soccer clubs' investors always put economic interests in the first place. Of primary concern to Jin is the deaf ear the Chinese Football Association has turned to public criticism and advice.
"The choice lies between long-term development and instantaneous accomplishment, and people at different positions have different demands," said IT tycoon Zhu Jun, owner of Shanghai United. "To invest in soccer, as a Chinese saying goes, everybody is like a blind man trying to size up the elephant. In any case, I spent money, of course I would like to use those players who can help raise our team's ranking in the league matches."
"This is the reality: only final results carry weight. Consequently, there are few opportunities for young players, who are woefully out of practice, to participate in real contests," Jin sighed out. "As the national team played bad, fans booed Zhu Guanghu and asked him to 'xiake' (resign). But who will become Zhu's successor? Dare the new coach use more young players? And if so, how many minutes are ensured in a game?"
Jin pointed out that coaching errors occurred at a grassroots scouting level. "For instance, a premature 12-year-old child with a stature of a 15-year-old is more likely to be selected. But usually, there isn't much space left for his physical improvement in the future. In fact, those late-maturing boys have a greater potential to be tapped."
Citing Yang Zhaohui of Beijing Guo'an as an example, Jin said when he got recruited into a professional team at age 16, he was slow and short of stature. Rather than sending him home, the coaches, appreciative of his skill, decided to keep him for one more year, during which he grew strikingly to 1.8 m (6 ft). Yang eventually became a member of the national team at age 21.
"Using today's standards, Yang would have been abandoned," Jin said.
Jin highlighted the situation in Beijing where 90 percent of players aged 21 who played in last year's National Games have since ended their soccer careers, with the nationwide average standing at 80 percent. "Before formally taking up a job, the youths were already laid off. This was not only a waste of soccer talent, but also posed a threat to social security," he said.
Jin also criticized the current training system. "Little boys began to be assembled for training at the age of 11 or 12, thus missing the chance of receiving proper education. With generations of soccer players having little formal schooling, Chinese soccer has been dragged deeper into a vicious circle.
"No wonder in recent years Asian Football Confederation has punished so many Chinese players for violent conduct," he said.
As this CSL season draws to a close, forward Li Yi has shockingly been appointed as the assistant coach of Shenzhen Jinwei.
"For a qualified coach, possession of soccer knowledge is far from enough. He must read and learn extensively," Jin stressed. "Soccer cannot develop in the absence of education. It's time for Chinese soccer to change its 'boorish' image."