Chinese athletes packed three gold medals on Sunday, the last day of the 2006 World Rowing Championships, setting a new world best in the process at Dorney Lake, Eaton, Great Britain.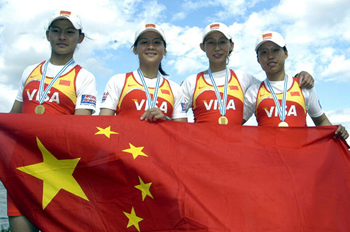 Chinese quartet - Fan Xuefei, Yu Hua, Chen Haixia and Liu Jing - celebrates winning the lightweight women's quadruple sculls at the 2006 World Rowing Championships. [sina.com]
The record was set in style by the Chinese lightweight women's quadruple sculls crew. Fan Xuefei, Yu Hua, Chen Haixia and Liu Jing won the gold medal in 6:23.96, a 5.44-second improvement from the time they set in winning their heat last Monday.
Among the winning Chinese scullers, Fan Xuefei, who will turn 16 in October, became the youngest-ever world champion rower.
"She has been rowing now for three years," said China's team manager, Xu Gaohang.
"She is a very modest young woman and was amazed to find she has become famous for being the youngest rower in the World Championships," he said.
Xu Dongxiang and Yan Shimin, who pinched Australia's world record earlier this year at the World Cup in Poznan, dominated the final of the lightweight women's double sculls. They had a slightly slower start, but were soon in the lead and sculling smoothly ahead of the pack.
The last gold for China came from the lightweight men's coxless fours. The Chinese quartet - Huang Zhongming, Wu Chongkui, Zhang Lin and Tian Jun - rowed a superb race to come through the early leaders Ireland to take first place.
"We planned to row our best ever race. To get the first men's gold in the Olympic events was fantastic," said Huang Zhongming, the gold medallist.
China have enjoyed a successful World Rowing Championships, picking up three gold medals.
"We are pleased with the overall performance of the Chinese team and we aim to do even better at the Beijing Olympics," said team manager Xu.
"We are learning a great deal by being here at the World Championships and we hope that we will be able to achieve the same high standards of organization at the Beijing Olympics."
With three gold medals and one silver, the Chinese rowing team finished fourth of the medal standings after all 27 events. Host Great Britain stood at the top with four gold medals, one silver and three bronze.
The 2006 World Rowing Championships was organized by the Amateur Rowing Association and took place from August 20-27 at Dorney Lake, Eton, which will be the venue for the rowing events at the 2012 London Olympics and the Paralympic Games.