The 11th IAAF World Junior Championships have now officially opened, with a lavish ceremony at Chaoyang Sports Park in Beijing.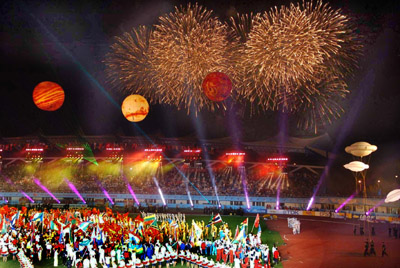 The 11th IAAF World Junior Championships opened in Beijing Chaoyang Sports Centre August 15, 2006.[Xinhua]

Before billions of spectators worldwide, Senior Communist Party of China official Li Changchun announced the opening of the championships—one of the largest sporting events set to be held in Beijing before the 2008 Olympics.
Before any sports records get set, the competition has already set a record itself, with the most participants in its history—1,600 athletes from 179 countries and regions.
Host China has contributed the largest-ever delegation, with 79 athletes, five of them having won gold medals in last year's championships in Marrakech, Morocco.
The Chinese youngsters will compete in 44 sports, hoping to top the country's record of eight gold medals won during the competitions in 1992.
Since the first IAAF World Junior Championships, held in Athens in 1986, Chinese athletes have participated in nine competitions, collecting a total of 28 gold medals.