China's bumpy road to the World Championships in Japan next month continues.
Just last Friday, China was relieved to hear star center Yao Ming declaring that his three-month old toe injury was healing fast. But it was followed by more depressing news.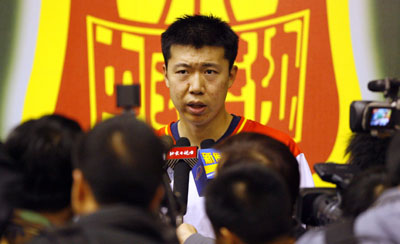 China's basketball player Wang Zhizhi. [filephoto]
Wang Zhizhi, the second most valuable player in the squad after Yao, tore a ligament in his right knee during an international friendly in France on Sunday, putting his participation for the worlds in doubt.
"I have to go through some more medical checks before getting a clear information about the extent of the damage," Wang told CCTV Sports yesterday. "French doctors here have said that I will be out definitely for at least two weeks, maybe even three."
Wang limped off the court midway through China's 57-76 defeat to France on Sunday after twisting his knee while going for a lay-up in the third quarter.
With Yao still nursing his broken toe, the 2.14-meter Wang, 29, has been dominant role for the Chinese - particularly in the paint - in the series of warmup games over the past month.
Wang averaged 23 points in eight matches in three different tournaments in the past four weeks