Olympic champion detained for drunk driving
(AP)
Updated: 2006-07-24 19:06
A Chinese table tennis champion and an Olympic gold medalist in 2000 has been fined after a late-night drunk driving incident, state media and a sports official said Monday.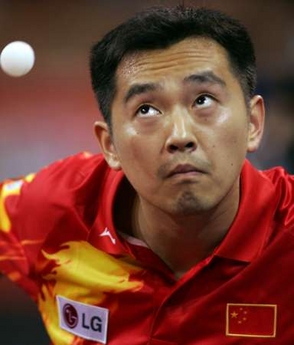 Kong Linghui of China returns a shot in the men's singles round three match against Zoltan Fejer-Konnerth of Germany at the 48th World Table Tennis Championships in Shanghai in this May 3, 2005 file photo. China's sport officials are wondering how to punish Olympic table tennis gold medallist Kong who was held by police for drink-driving after crashing his Porsche into a taxi, Chinese media reported on July 24, 2006. [Reuters]
Kong Linghui, 31, crashed a Porsche Boxster into a Beijing taxi cab at 3:30 am Saturday, the Xinhua News Agency said on its Web site. Two women were also in the Boxster when it crashed but no one was reported injured, it said.
Police who arrived at the scene detained Kong for drunk driving, suspended his license for six months and fined him 1,800 yuan (US$80;euro180), said Qin Shanglin, the director of the table tennis division of China's General Administration of Sports.
"Kong is very regretful over what he has done," Qin said. He said the administration had yet to decide how to penalize Kong but that the incident was unlikely to affect his future career in the sport.
Kong garnered a gold medal in the men's singles and a silver in men's doubles with Liu Guoliang during the 2000 Olympics in Sydney, Australia. Last year, he and teammate Wang Hao took the men's doubles gold at the World Championships in Shanghai.