Chinese NBA star Yao Ming has been named Goodwill Ambassador to the Shanghai Special Olympic Games in 2007.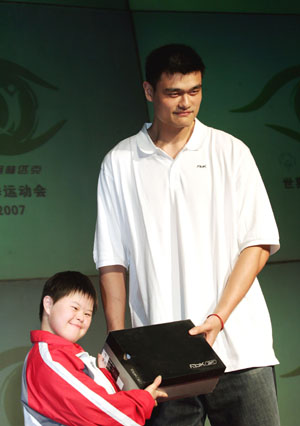 NBA Houston Rockets player Yao Ming (R) accepted a track shoe as a gift given by Chinese Special Olympics athlete Zhao Zengzeng at a press conference for the 2007 Special Olympics in Beijing July 21, 2006. Yao has declared his foot injury a non-issue ahead of August's World Championship warm-up games against America and Brazil. [Reuters]
Houston Rockets center Yao appeared at a press conference here on Friday afternoon, launching a series of public service announcements promoting the Special Olympics.
"The mentally-retarded people need more attention from the society. These athletes move me a lot with their effort and courage," said the 2.26m Shanghai native.
Yao was left home nursing a foot injury while his teammates are on a European tour building up for the World Championship in Japan in August.
The Chinese team lost their warm-up match to Lithuania 96-75 on Friday in Strasbourg, France.