Liu Xiang is a proud world record holder now, but his main goal hasn't changed: retaining the medal for the 110-meter hurdles at the 2008 Games in his hometown, Beijing.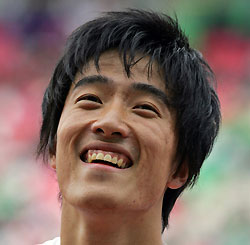 "All the training will follow my original plan," said Sun Haiping, Liu's coach. "The 2008 Games have always been the top priority. It's good that Liu Xiang set a new record, but training for the Games still follows the set plan."
Liu, who is China's first male Olympic track champion, smashed the 13-year-old world record in men's 110-meter hurdle at a super grand prix in Lausanne, Switzerland, on July 12. He beat British hurdler Collin Johnson's record by 0.03 seconds. Johnson's time was 12.91 seconds and Liu's was 12.88 seconds.
Liu took a week off for rest after the stunning race and went back to training at an indoor stadium in Shanghai.
Liu slept through the morning and cycled to the training camp with his "old tanker," which is a Phoenix-brand bicycle widely seen in China in the 1990's. No extra pressure as a record holder, Liu believes "it's quite comfortable when nothing changes."
Sun said that Liu has not fully recovered from the Lausanne match but added that a gold at the 2007 World Athletic Championship in Osaka would be Liu's next obstacle.
"Old rivals are expected to meet again at that match: Liu, Ladji Doucoure from Europe, Dominique Arnold and Terrence Trammell from America," Sun said. " Alan Johnson's unstable injury condition may cost him an entry."
Even though Liu is the world's fastest hurdler, some still think that Liu had a slow start during the latest race, suggesting Liu should focus on the first 30-meter during training, but coach Sun thinks otherwise.
"We actually know how to make Liu run faster within the first three hurdles," Sun said. "A special training will do,b ut Liu might lose his good senses of rhythm if he runs with full speed at first."
Many had expected Liu to break the world record at the Beijing Olympics in 2008, but Liu did it two years earlier. It was not a good timing, though.
Sun, feeling anxious during the tense moments of Liu's latest race, forgot to take his heart attack medication at the race in Lausanne. "Normally, I bring my medicine at my side, but that day I changed clothes," Sun said. "I was really nervous before the running."
Then, Sun felt uncomfortable with his heart -- Liu broke the record.