The Beijing Olympic host broadcaster has been intensifying its team-building and co-operation efforts both at home and abroad in the run-up to the 2008 Games.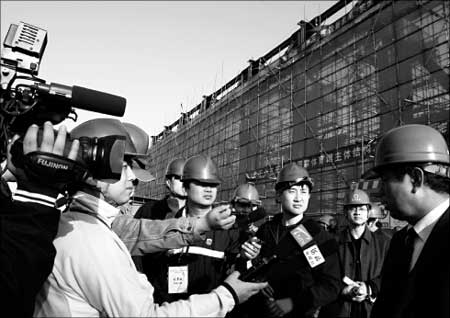 Chinese TV staff cover the construction of Olympic venues. [China Daily]


The Beijing Olympic Broadcasting Co Ltd (BOB) is expected to provide international TV and radio signals to a combined total of 4,000 hours over 17 days, with a cumulative worldwide audience of over 40 billion watching the Games. More than 16,000 TV employees for about 200 rights-holding broadcasters worldwide will be in Beijing to cover the Games from August 8-24, 2008.

"Such an intensive workload in a limited period of time needs a large amount of skilled staff, especially those with broadcasting experience of large sports events," says BOB's Chief Operating Officer (COO) Ma Guoli, who estimates that around 4,000 people will be involved in the work.

BOB is a joint venture between the Beijing Organizing Committee for the Games of the XXIX Olympiad (BOCOG) and Olympic Broadcasting Services (OBS) to organize Olympic broadcasting for the Beijing 2008 Olympic and Paralympic Games.

As the host broadcaster, BOB is to plan, design, install, construct and operate the International Broadcast Centre (IBC) and the necessary broadcast facilities in other venues, and provide related services for rights-holding broadcasters during the Beijing Games.

BOB's Chief Operating Officer (COO) Ma Guoli.[filephoto]
"What I worry about most is the shortage of professional human resources the assurance for high-quality service," says Ma, who with 25 years of TV experience behind him has worked his way up from a TV sports reporter to sports director of CCTV, China's top national TV channel, until he became BOB's COO.
Ma says that with the coming of the Beijing Games and the ever-increasing demand for personnel, there will be a total of 250 to 260 people employed full-time at BOB by May 2008.
Currently it has a staff of 90, including 40 foreigners with Olympic broadcasting experience selected by OBS from its talent pool. "An international team will emerge at venues of the 2008 Olympic Games," says Ma.
At the management level, Jiang Xiaoyu, executive vice-president of BOCOG, is the BOB board chairman, while IOC Co-ordination Commission Chairman Hein Verbruggen is the vice-board chairman of BOB, and Manolo Romero, head of OBS, has been appointed CEO.
Besides recruiting aggressively, BOB is in negotiations with various broadcasters both at home and abroad to co-operate on production. It has organized a Chinese team of about 700 people for the production of seven sports including table tennis, volleyball, basketball, tennis, football, badminton and some modern pentathlon events.
Internationally, Ma says, different TV stations have different competitive edges in terms of production. For example, Finnish TV is good at covering track and field events and has been invited to work for the Beijing 2008 Games.
Chinese TV broadcasters should grasp the opportunity offered by the 2008 Olympic Games to develop skills and gain a foothold in the international market, Ma says.
Manolo Romero, BOB's CEO, said earlier that in BOB, "the best talents in sports broadcasting are working alongside enthusiastic Chinese professionals," and they are "working together to ensure the best sporting talents in the world are served by the best sports broadcaster, to ensure the best coverage."
According to the IOC official website, the Beijing 2008 Games will generate an estimated US$1.7 billion in Olympic broadcast revenue, or 14.26 per cent more than the Athens 2004 Games. The IOC has signed a broadcasting rights-holding agreements with 12 broadcasting institutions, including broadcasting unions in Asia, Europe, Africa, South America and the Middle East, as well as broadcasters in South Korea, Australia, Japan, Canada and the US.

(China Daily 07/21/2006 page5)