Italy coach Marcello Lippi resigned Wednesday, three days after guiding the Azzurri to their fourth World Cup title.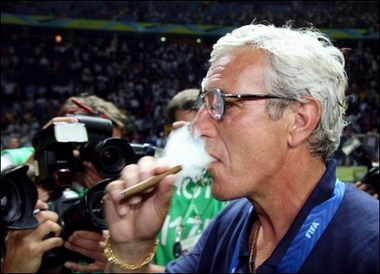 Head coach of the Italian team Marcello Lippi smokes a cigar as he celebrates Italy's victory over France in the 2006 World Cup final at Berlin's Olympic Stadium on July 9. Lippi has decided to stand stand down from the job, the Italian Football Federation has announced. [AFP]
Despite widespread calls for him to stay, Lippi suggested weeks ago that he would resign. He feels he and his son, Davide, were attacked personally in the corruption scandal tainting the domestic game.
"At the end of an extraordinary professional and human experience, experienced as the head of an exceptional group of players ... I believe my role is over as the guide of the Italian national team," Lippi said in a statement.
While he is not under investigation, Lippi was questioned by prosecutors before the World Cup about alleged pressure he received to select certain players for Italy's national team. Davide Lippi is under investigation for his work at player agency GEA World.
Italian soccer federation vice president Giancarlo Abete said Lippi had told him during the round-of-16 stage that he intended to quit regardless of his team's performance.
Italy beat France in Sunday's final 5-3 on penalty kicks foll0wing a 1-1 deadlock after extra time.
In a statement, Abete praised Lippi for his "extraordinary professionalism and his ability leading the team."
Francesco Saverio Borrelli, who led the federation's probe into the match-fixing scandal, said he was saddened by the coach's decision.
"Lippi has been the author of this victory in Germany, and I'm really sorry he left." Borrelli was quoted as saying by news agency ANSA. "I've always had admiration for the Azzurri and Lippi."
Lippi denied reports before the final linking him to Manchester United, saying that since he doesn't speak English it would be impossible for him to work for the Premier League club. He hasn't announced his future plans, and Italian media have speculated that he will take a sabbatical.
Lippi replaced Giovanni Trapattoni after Italy was eliminated in the group stage of the 2004 European Championship.
He led the team on a 25-game unbeaten streak, the Azzurri's second-longest streak after they went 30 games without defeat from 1935-39 _ a period that included Italy's second World Cup title in 1938.
Slovenia's 1-0 win in October 2004 was Italy's last loss under Lippi, earning 16 wins and nine draws since.
Lippi visited Gianluca Pessotto, who he used to coach at Juventus, at a Turin hospital after announcing his decision. Pessotto has been hospitalized with multiple fractures after falling from the roof at the club's headquarters June 27 in what Italian media described as a suicide attempt.
Pessotto was appointed Juventus' team manager due to a match-fixing scandal that could demote the Serie A club and strip it of the last two league titles it won. Verdicts are expected in the coming days.
Lippi coached Juventus from 1994 and won five Serie A titles, one Italian Cup, four Italian Supercups, the 1996 Champions League, and the European Supercup and Intercontinental Cup.
As a player, Lippi had a seven-season stint in Italy's top league with Sampdoria in the 1970s. He began coaching Genoa's academy squad in 1982, and soon won a youth tournament in Marseille.
Lippi got his start at the lowest level of Italian professional soccer in 1985, guiding Pontedera in Serie C2. His Serie A debut came with Cesena in 1989, and he then coached Lucchese, Atalanta and Napoli.