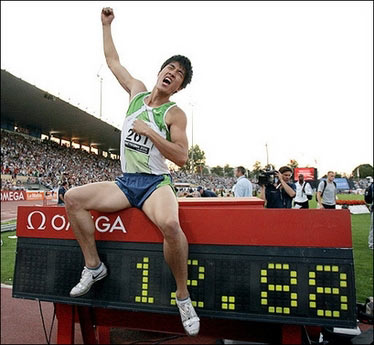 New world record holder China's Liu Xiang gestures with the time he set in the men's 110m Hurdles at the athletics IAAF Super Grand Prix Athletissima, in Lausanne. Liu scorched to the finishing line in a time of 12.88sec, beating the old mark of 12.91 that he shared with Britain's Colin Jackson and which had stood since 1993. [AFP]
Liu Xiang of China set a new 110 metres hurdles world record on a stunning night in Lausanne, breaking the record he shared with Britain's Colin Jackson.
Liu scorched to the finishing line in a time of 12.88 seconds, beating the old mark of 12.91 that he matched in winning gold at the 2004 Athens Olympics. Jackson ran 12.91 in Stuttgart, Germany, in August 1993.

Dominique Arnold of the United States was second in 12.90, also faster than the previous record.
"I'm very happy," Liu said, covering his face with the Chinese flag. "I'm very tired."
Liu, who also holds the world junior record of 13.12 set in July 2002 in Lausanne, ran a victory lap, shirtless and waving to the crowd, before sitting on the track clock that showed his record time.
And on a night of brilliant performances, American Xavier Carter ran the second fastest 200m of all time in 19.63sec in a race in which four men finished in under 20.00sec.
Comeback queen Marion Jones streaked to 100m victory in 10.94sec while there were world leading marks for America's Michelle Perry in the 100m-hurdles (12.43), Kenya's Janeth Jepkosgei in the 800m (1min 56.66sec) and pole vault world record-holder Yelena Isinbayeva of Russia who cleared 4.90m before failing at a new world record height of 5.02m.
But the night was mostly about 22-year-old Liu, the Olympic champion, twice world medalist and now new world record holder.
"I felt good but you can't beat the record on cue. I have always known since the Olympic final (in Athens in 2004 when he equallled Jackson's time) that I could do better," he said.
"It's a dream: I had already beaten the world junior record (13.12) in 2002 in Lausanne.
"I can't believe it. It's historic. In Athens, in the Olympic Games, I was the only yellow athlete to beat the Americans and Europeans."
In the 200m, the new breed announced their arrival on the world scene in stunning fashion.
Carter, 20, won in a time bettered only by the astonishing Michael Johnson, who ran 19.32 in the 1996 Atlanta Olympics.
But behind him came Tyson Gay of USA in 19.70 and teenagers Usain Bolt of Jamaica (19.88) and USA's Wallace Spearmon (19.90).
In other notable performances that were almost missed among the euphoria, Sweden's Christian Olsson leapt 17.62m to win the triple jump with Russia's Tatyana Lebedeva claiming the women's event with 15.19m.