Marathon world-record holder Paula Radcliffe is pregnant, and will be out of competition until next summer.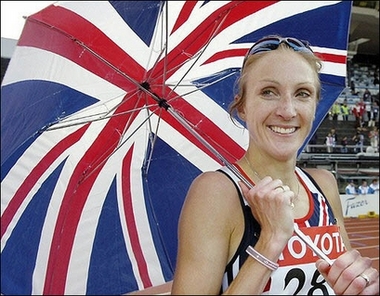 Britain's Paula Radcliffe smiles after winning the marathon world championship in August 2005. Radcliffe has announced she is pregnant, but says she will continue competing for the time being.[AFP\File]
The 32-year-old Englishwoman announced in the Times of London on Tuesday that she is expecting her first child on January 6.
Radcliffe said she plans to compete at the World Championships in Osaka, Japan, in August 2007.
"What has surprised me most is that people ask if I will carry on competing," she said. "This is especially surprising as I have said I want to carry on until 2012. And this news means it is more likely rather than less likely, that I will do that."
Radcliffe is recovering from a foot injury that ruled her out of this April's London Marathon. She set the women's world record of 2 hours, 15 minutes, 25 seconds in London in 2003.
"My recent foot injury made me realize I was never going to decide to reach the Beijing Olympics and then give it up to have children, so we decided to give it a go," Radcliffe said. "We are ready to be parents and if you are happy you run better."
Radcliffe is married to her coach, former British 1,500-meter runner Gary Lough.
Radcliffe said taking a break from competition would do her good, "and it probably won't do my body any harm to be challenged in a different direction."
"Mentally I will have fulfilled one of my life goals, so I will return more mature and with the wisdom that is part of being a mother," she said.
Radcliffe is a three-time world half-marathon champion and a two-time world cross-country champion. On the track, she won the 5,000 meters at the Commonwealth Games and the 10,000 meters at the European Championships, both in 2002. She's never won an Olympic gold medal, however.
As a favorite for the 2004 Olympic title, Radcliffe pulled out after 37 kilometers (23 miles). She went on to win the New York Marathon later that year.
In 2005, Radcliffe won the world championship in the marathon in Helsinki. She also won the Chicago marathon in 2002, and holds three London Marathon titles.
Radcliffe won't defend her European Championship 10,000-meter title in Goteborg, Sweden, next month.