Zinedine Zidane, playing the last match of his illustrious career in Sunday's World Cup final, was dreaming of the ultimate farewell party but it went awfully wrong.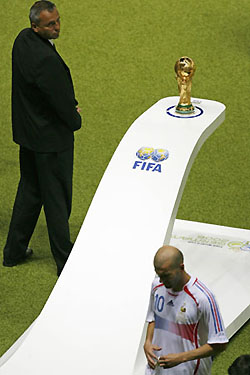 France's Zinedine Zidane (R) walks off the pitch and past the World Cup Trophy after referee Horacio Elizondo of Argentina showed him a red card during their World Cup 2006 final soccer match against Italy in Berlin July 9, 2006.[Reuters]

The maestro walked off the pitch of the Olympiastadion in tears, passing the World Cup trophy itself as he went down the stairs leading to the dressing rooms after losing his temper at the worst possible moment.

The France captain was sent off for butting Marco Materazzi in the chest in extra time before Italy went on to win on penalties.

It had all started in promising fashion, the balding playmaker audaciously chipping the ball in off the crossbar from a penalty to give his side a seventh-minute lead.

The gifted son of Algerian immigrants showed glimpses of his best form throughout an ill-tempered contest and bravely battled on despite hurting his right shoulder in a clash with 10 minutes remaining in normal time.

After 104 minutes, he powerfully headed a cross from Willy Sagnol goalwards, only for Gianluigi Buffon to brilliantly tip the ball over the crossbar.

A few minutes later, he was gone.

"There a moments, when you take blows ... I'm not saying I'm excusing it but I can understand," said France coach Raymond Domenech, aware that Zidane's violent gesture occured after a heated exchange of words with Materazzi.

CHIRAC TRIBUTE

There was some consolation for the man who inspired France to their only World Cup triumph eight years ago when French President Jacques Chirac paid tribute to him.

"I would like to say all the esteem I have for a man who has embodied sport's most beautiful values, displayed the greatest human qualities and made France proud," Chirac, who was at the match, told French television.

It was far from obvious a few weeks ago that Zidane, who turned 34 during the tournament, would sign off by playing a second World Cup final after scoring two headed goals when France stunned Brazil 3-0 in 1998.

His penalty on Sunday earned him a place in the record books alongside Pele, Vava and Geoff Hurst as the only four men to score three goals in World Cup final matches.

France had struggled to qualify and Zidane, caming out of international retirement last year to help them win a ticket to Germany, had looked rusty for months.

He was past his prime, it seemed, and his first matches in the tournament confirmed the impression.

The man called Zizou by his fans, woke up in a second-round match against Spain, orchestrating play with calm authority and scoring a superb goal in added time in a 3-1 win that was the turning point in France's campaign.

Then came Brazil in a rematch of the 1998 final and Zidane was pure magic in a 1-0 win, rolling back the years by pulling out all his old tricks in one of the most magnificent performances of his entire career.

"Watching Zizou play must make others feel they should stop," France midfielder Patrick Vieira said after that match.

"It also makes you wish he would carry on."

Another age-defying performance in a 1-0 semi-final victory over Portugal in which he drove home the winning penalty followed before the final curtain fell in such a traumatic way.