The beautiful game turned vicious, even venomous Sunday. It was all still beautiful to Italy. And very ugly for France, which lost captain Zinedine Zidane with a red card after his nasty head butt in extra time, and then went down 5-3 in a shootout after a 1-1 draw.(Click to see more stories)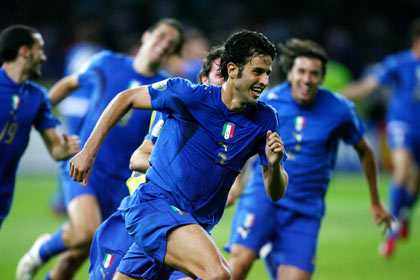 Italy's Fabio Grosso (C) celebrates with team mates after scoring the winning penalty during the penalty shootout in the World Cup 2006 final soccer match between Italy and France in Berlin July 9, 2006. [Reuters]
Explanations were nonexistent for Zidane's action in the 110th minute of his farewell game. He was walking upfield near defender Marco Materazzi when, in his final act for his national team, he bashed his shaven head into Materazzi's chest.
"I have not seen the replays, but if it's voluntary then there's nothing you can say," France coach Raymond Domenech said. "But it's a shame. It's sad. He (Materazzi) did a lot of acting and for such a big man, a gust of wind made him fall over."
Not quite. Zidane, who is retiring, might have been provoked, but he definitely knocked over Materazzi.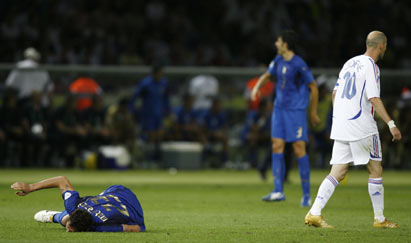 France's Zinedine Zidane (R) walks away after fouling Italy's Marco Materazzi (L) during their World Cup 2006 final soccer match in Berlin July 9, 2006. [Reuters]
"It's regrettable. We regret it, he regrets it," Domenech said.
Without their leader, the French still had their chance in the shootout. But the Italians, never masters of the penalty kick, made all five, setting off an hour of hugging, dancing and fist-pumping celebrations.
"This squad showed great heart," Gennaro Gattuso said. "Maybe it wasn't pretty, but we were hard to beat."
They were impossible to beat and gave up only one goal actually scored by an opponent. And no, it was not pretty.
Outplayed for an hour and into extra time, the Italians won it after Zidane committed the ugliest act of a tournament that set records for yellow and red cards, diving and, at times, outright brutality.
Asked if French soccer would miss Zidane, Domenech said:
"Yes, well, he was missed in the last 20 minutes tonight. It weighed heavily in the outcome."
Without their leader for the shootout, the French only missed once. But Italy was perfect. Fabio Grosso clinched the Azzurri's fourth championship, and his teammates had to chase him halfway across the pitch to celebrate.
"It's incredibly emotional. Words can hardly describe it," Grosso said. "Maybe we still don't realize what we have achieved. We really wanted to win and in the end we made it."
Only Brazil has more World Cups, five.