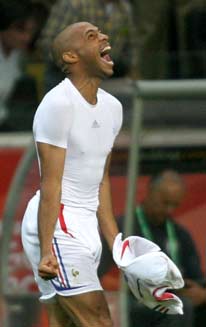 France's Thierry Henry celebrates, as Brazil coach Carlos Alberto Parreira walks in the background, after France defeated Brazil in their World Cup 2006 quarter-final soccer match in Frankfurt July 1, 2006. [Reuters]

France still has Brazil's number. And on Saturday in Frankfurt, Germany, the French had all the flair, too.

The experienced and savvy French ousted the five-time World Cup champions 1-0 in a stunningly one-sided quarterfinal game. Tacked onto France's 3-0 victory in the 1998 title match, the last time Brazil lost in the World Cup, it's clear the Brazilians have a nemesis at soccer¡¯s highest level.

The heroes were familiar as well. Zinedine Zidane, headed into retirement after the tournament, served a perfect free kick to Thierry Henry in the 57th minute. Completely unmarked, Henry had the whole right side of the net and smashed in a right-footed volley.

It was Zidane who sank the Brazilians in 1998, scoring two goals for France's first title.

This was a shocking exit for Brazil, the pretournament favorite. The Brazilians had just one shot on goal all game and allowed huge gaps in the defense all night. Stars such as Ronaldo, Ronaldinho and Kaka were either invisible or inept.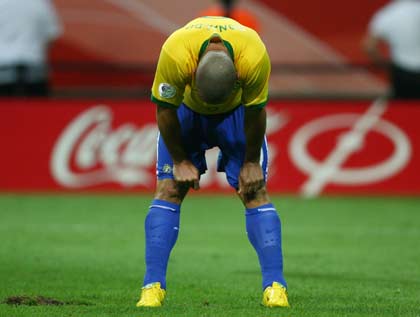 Brazil's Ronaldo reacts to his team's loss to France after their World Cup 2006 quarter-final soccer match in Frankfurt July 1, 2006. [Reuters]
France began the tournament so poorly it appeared headed for a first-round exit like four years ago. Instead, France heads to the semifinals against Portugal on Wednesday in Munich.
With Germany playing Italy in Tuesday's semifinal in Dortmund, this will be the first all-European final four since 1982.
In the final minutes, Brazil desperately pressed forward, with Ronaldinho surfacing at last and barely missing on a free kick. Two more attacks yielded nothing as France goalkeeper Fabien Barthez screamed at his teammates to hold on.
Barthez was gripping a floater by Lucio as the clock ran out, setting off a wild celebration in which the France players mobbed each other while jumping in a circle. Several of them offered hugs to the vanquished and dazed Brazilians before heading to the corner where their fans were waving flags, take pictures, and savoring a magnificent victory.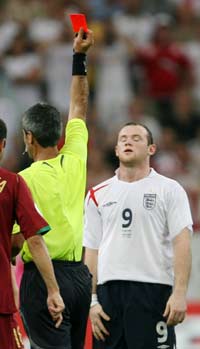 Referee Horacio Elizondo of Argentina shows England's Wayne Rooney a red card during their World Cup 2006 quarter-final soccer match against Portugal in Gelsenkirchen July 1, 2006. [Reuters]

Portugal 0, England 0 (Portugal wins shootout 3-1): The ending is familiar: Luiz Felipe Scolari pumps his arms, his players wildly celebrate and their English rivals slump to the field, beaten and exhausted.

Portugal, Brazil, it doesn¡¯t matter. When Big Phil is coaching, his team will send England home. That goes double when the team is Portugal, triple when it comes down to penalty kicks.

England gamely hung on after David Beckham got hurt and Wayne Rooney got ejected, but lost to Portugal 3-1 in a shootout Saturday night in Gelsenkirchen, Germany, after 120 minutes of scoreless soccer in the World Cup quarterfinals.

Ricardo, Portugal's goalkeeper, saved three penalty kicks as his nation advanced to the semifinals for the first time since 1966, when it lost to England. The final kick was converted by Cristiano Ronaldo, who stars for Manchester United.

When extra time ran out, the boisterous English fans seemed happy to have survived, jumping and singing "Que Sera, Sera" as penalty kicks loomed. But shootouts are not where England shines, and it now has lost five of six in major tournaments over the last 16 years.

Portugal also beat England on penalty kicks in the European Championship quarterfinals two years ago. Scolari has won three straight big games over the English, he led Brazil to a 2-1 quarterfinal win in the 2002 World Cup and Portugal to the Euro 2004 victory. In April, he turned down an overture to succeed Sven-Goran Eriksson as England' s coach after this tournament.