Li Na has admitted to being stunned after upsetting Russian fifth seed Svetlana Kuznetsova to become the first Chinese player to reach the last 16 at Wimbledon.
Li, the 27th seed, will now face Nicole Vaidisova of the Czech Republic on Monday for a place in the quarter-finals.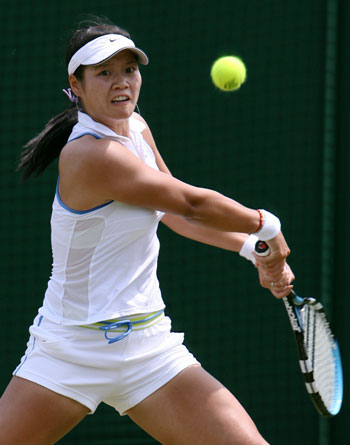 China's Li Na plays a shot to Russia's Svetlana Kuznetsova during their match at the Wimbledon tennis championships in London June 30, 2006. [Reuters]
"When I was in the locker room afterwards I couldn't believe it," said the 24-year-old from Wuhan.
Li believes her decision to return to college in 2003 before resuming her tennis career has been one of the major reasons for her success.
"Definitely that helped, before I was just a little girl and when something happened on court I couldn't really think properly," she added.
"I think now I've grown up."
Zheng Jie, China's world number 37, said she was delighted by her compatriot Li's achievement.
Zheng, who was beaten in straight sets by Belgian second seed Kim Clijsters in the third round, said she was not surprised by Li's 2-6, 6-2, 6-3 victory over Kuznetsova.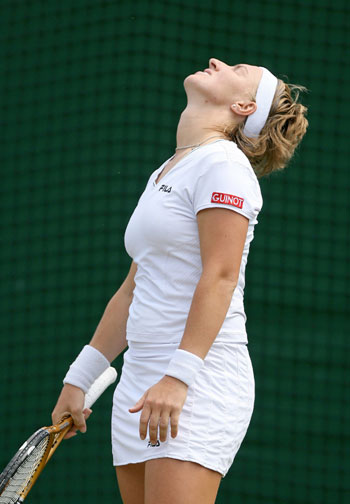 Russia's Svetlana Kuznetsova reacts during her match with China's Li Na at the Wimbledon tennis championships in London June 30, 2006. [Reuters]
"I was not surprised that she beat her this time," said the 23-year-old.
"Two years ago she played her in the China Open and had two match points but she lost.
"She said yesterday morning that when she always plays Kuznetsova she always loses in three sets but I told her she could win next time!"
Zheng said she was pleased with her own performance in reaching the third round at only her second Wimbledon and was full of praise for Clijsters.
"She has a lot of power and a big serve," said Zheng. "I returned well today but her serve is so strong that I didn't have the chance.
"I think it isn't bad to get to the third round as in China there are no grass courts."
Clijsters paid tribute to the Chinese girl.
"She's a tough player. I played against her once in Hong Kong in an exhibition. It was a close match," said the Belgian.
"She's a counter-puncher. She likes to play fast rallies and likes to stand on the baseline and dictate the points.
"It was important for me to keep moving her side to side and not let her play her game."
China began the tournament with six women in the first round draw.
On Saturday, Peng Shuai faces Italy's Flavia Pennetta, the 16th seed, for a place in the last 16.
"Peng will play Pennetta," said Zheng. "She has a big chance as Pennetta likes clay courts."
Li, who clinched her first tour title at Guangzhou in 2004, is making her debut at Wimbledon and is the first Chinese player to be seeded at a Grand Slam.
Her passage to the fourth round also equals the best Grand Slam performance by a Chinese competitor after Zheng's run to the last 16 at the French Open in 2004.