Hosts Germany beat Argentina in a penalty shootout on Friday to reach the semi-finals of the World Cup where they will play Italy, who cruised past debutants Ukraine 3-0.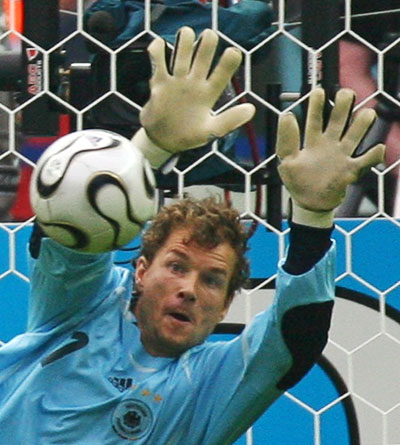 Germany goalkeeper Jens Lehmann makes a save from a kick by Argentina's Esteban Cambiasso during the penalty shootout in their World Cup 2006 quarter-final soccer match in Berlin June 30, 2006. [Reuters]
Goalkeeper Jens Lehmann was the hero for Germany, saving two penalties to give his country a 4-2 win in the shootout after the game in Berlin's Olympiastadion had ended 1-1.
"It was very exciting for us on the bench," German coach Juergen Klinsmann told reporters. "It was like a Hitchcock movie."
Players and officials from both teams clashed on the pitch in a melee immediately after the decisive penalty save. Argentine Leandro Cufre, an unused substitute, was given a red card for his part in chaotic scenes broadcast around the globe.
Italy rarely looked in trouble after fullback Gianluca Zambrotta put them ahead in the sixth minute. Striker Luca Toni scored twice in the second half to snuff out a rally by Ukraine, who were supported in Hamburg by President Viktor Yushchenko.
The German capital was a sea of black, red and gold flags as hundreds of thousands of fans poured into the city. Those without tickets gathered in the shadow of the Brandenburg Gate to follow the match on big-screen TVs.
"This is just great. It's just great. To do this in our own country - the feeling is hard to describe," said Gerd Findeisen, 48, a travel agent from Quedlinburg near Hanover.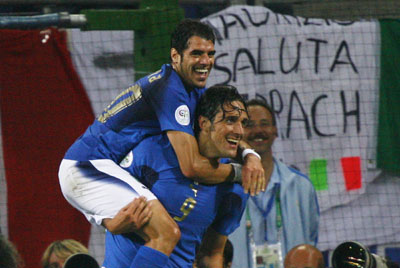 Italy's Luca Toni (9) celebrates with team mate Simone Perrotta after scoring his second goal against Ukraine during their World Cup 2006 quarter-final soccer match in Hamburg June 30, 2006. [Reuters]
"And you know what is really wonderful - it's this new patriotism. There are no nasty undertones to it at all. It's just party, party, party."
The mood was darker in the western German city of Gelsenkirchen where riot police moved in to separate hundreds of English and German fans after they briefly clashed.
Police in helmets moved on to the main street to divide the two groups after they threw bottles at each other. Thousands of England fans are expected in the industrial city for their team's quarter-final against Portugal on Saturday.
A spokesman for local police said 50 fans had been detained - 25 English and 25 German. One English fan was arrested for throwing a bottle and one German supporter had been taken to hospital with minor injuries.
Holders Brazil play France in Frankfurt on Saturday night in the last quarter-final.
Argentina, winners of the trophy in 1978 and 1986, looked set to gatecrash the German party when defender Roberto Ayala headed them in front in the 49th minute.
But the tournament's leading scorer Miroslav Klose headed an equaliser in the 80th minute to send the match into extra time, his fifth goal in the finals.
Goalkeeper Lehmann saved penalties from Ayala and Esteban Cambiasso in the shootout, while the German players kept their nerve and converted all four of their spot kicks.
Germany are bidding to add to world championships won in 1954, 1974 and 1990 -- all as West Germany before the country was reunified.
Italy won the last of their three World Cups in 1982 when they beat West Germany in the final. The two meet in Dortmund next Tuesday.
About 10,000 fans had gathered to watch the match on a giant screen in Kiev's Independence Square - focal point of Ukraine's 2004 "Orange Revolution" -- and all left the square happy despite the score.
Serhiy, 20, student: "Yes, we lost. But these guys were simply great. We achieved what no team anywhere else in eastern Europe could manage."