China Central Television (CCTV) sports commentator Huang Jianxiang made a public apology Tuesday for losing his cool during a live broadcast of the Italy-Australia World Cup match in Germany.(Know more about the story ofChinese sport commentator Huang Jiangxiang loses cool)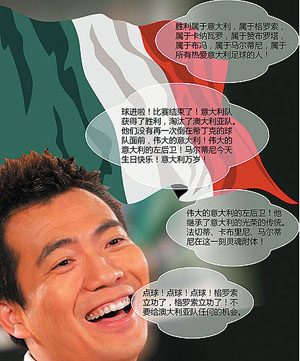 Chinese popular sports commentator Huang Jiangxiang. The sign reads, "Penalty! Penalty!","Grosso's done it! Great Italian left back! Grosso succeeded in the long history and tradition of Italian soccer! He is not fighting alone at the moment!", "Left back the great! Happy birthday to Maldini! Forza Italia! Long live Italy!". [baidu.com]

The sports host got excited and sided with Italy, saying things like "Don't give the Australians any chances!" and "Long live Italy!" after Italy ousted Australia with a last minute penalty shot to reach the World Cup quarterfinals. His behavior then sparked a heated nationwide controversy.
As for his passionate but controversial commentary, Huang explained that the game was too personal for him to have been an objective observer.
"I reviewed the video of last night after waking up this morning," Huang said, "and felt my words were biased and inappropriate and that they may have hurt or displeased a lot of Chinese soccer fans."
"Here, I apologize to all viewers for my improper and biased comments," Huang said. "I will try to remain as objective and impartial as the referee who ruled the game on the pitch as a sports broadcaster."
CCTV Beijing newsroom host Zhang Bin commented on Tuesday's Huang incident.
Zhang bluntly criticized the 38-year-old for shouting himself hoarse in front of millions of Chinese audiences.
"He should have kept calm, but he failed," Zhang said.
Zhang, as Huang's colleague, made an apology on behalf of Huang Jianxiang on the live program Tuesday night.
Most web surfers show sympathy and understanding towards the well-respected commentator who drew heavy criticism from several online discussion forums.
"Mr. Huang has expressed himself and his opinions in a passionate manner for which I applaud him," netizen Douglas in Shunde wrote on the chinadaily.com.cn forum.
A blogger named Hunter at yahoo.com, ended his post this way, "Huang's commentary should not be accused of breaking with tradition. But a bow is in order at any rate, though Huang is not in Beijing at the moment."
As netizens are engaged in the controversy over Huang's remarks, rumors spread through Internet chat rooms, saying a group of Australian football supporters had protested at the Australian Embassy in Beijing after the match, and the Australian embassy had complained to CCTV for accusing Huang of outburst.
The Australian Embassy in Beijing however said it was unaware that anybody from there had complained about Huang's comments, reporter of chinadaily.com learned from an unnamed official at the embassy.