New York Knicks' first-year guard Nate Robinson says he has his sights set on making it to the Beijing Olympics in 2008.
Robinson, together with Jason Richardson of Golden State Warrirors, joined the Nike Asia Training Camp, which took place last week at Peking University.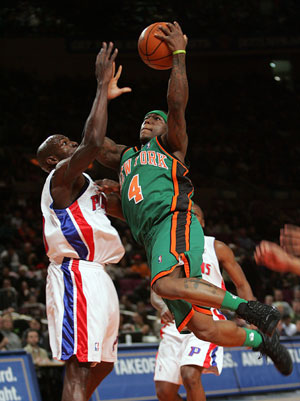 New York Knicks Nate Robinson (R) drives to the basket past Detroit Pistons Antonio McDyess during their game in New York March 17, 2006. [Reuters]
"I am now expecting the Beijing Olympics and it's a great Games," said Robinson on Sunday, the last day of the camp. "It's very hard to get on the American national team because there are too many great players out there, but I will try out to make my Olympics."
The 1.75-metre Robinson finished his rookie season with 9.3 points and shooting 44.4 per cent after being drafted by the Phoenix Suns with the 21st overall pick last June and then traded to the east coast team.
His career highlight came in February during the Houston All-Star Games where he outclassed Philadelphia's Andre Iguodala and the Atlanta Hawks' Josh Smith to dominate the All-Star Weekend Slam-Dunk Contest.
The five-day training camp in Beijing brought together 60 promising teenagers aged 14 to 18 from around the Asia.
Instructed by Robinson and Richardson, as well as a series of NBA coaches, the teens went through skills, shooting practice and also physical workouts.
"I was very much impressed by the young players in Asia, they are tall, strong and also have great passion," said Robinson. "I am also excited to bring them some NBA experience and help the kids develop their basketball on and off the court."
Yuki Mitsuhara, a 17-year-old from Japan, said he learned from the camp.
"I was dumbfounded watching the two guys dunk just in front of me," he said. "I certainly want to be a player like them and the camp gives me a chance."
Three campers - Peng Duo of China Dongguan, Liu Xiaoyu and Zhou Peng from Guangdong Hongyuan - were voted as most valuable players of the camp and qualified to join the Nike All-America Training Camp next month in the United States.
Nike Basketball Training Camp was founded in 1986 in the United States and first came to Asia in 2002.
Some leading Chinese basketball players, including Yao Ming, Wang Zhizhi and Yi Jianlian have participated in the camp.