Ronaldo's supermodel girlfriend won't pose nude
(Reuters)
Updated: 2006-06-08 15:26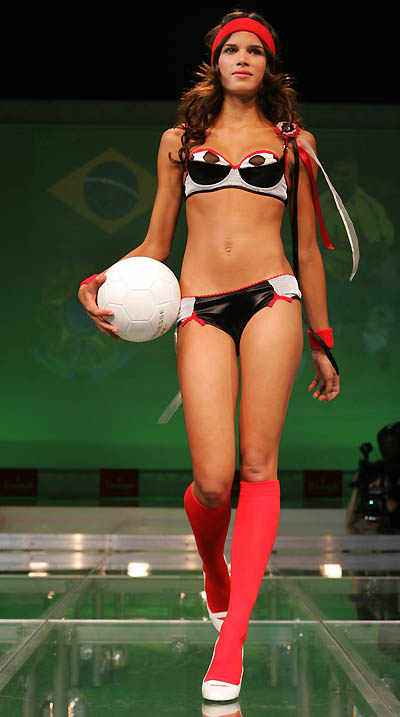 Girlfriend of Brazilian national soccer player Ronaldo, Raica Oliveira spots underwear of German lingerie manufacturer Triumph in Munich, June 7, 2006. [Reuters]
SAO PAULO, Brazil - One less thing for Brazilian soccer star Ronaldo to worry about in the run-up to the World Cup -- his supermodel girlfriend says she will never pose in the nude.
Raica Oliveira said in an interview published on Tuesday in the newspaper Folha de S.Paulo that she planned to marry and to have children, but had no timetable set.
Asked if there was any work she would not do, she said: "I could not pose nude. Nothing against those who do, but I never felt right about it. It's not something that would make me proud."
Raica, 22, spent Monday with Ronaldo at the Brazilian team's hotel in Konigstein, Germany, before heading back across the Atlantic for modeling assignments in New York and Rio de Janeiro.
"Raica, the solution for Ronaldo," Folha said, noting that she had helped him deal with his blistered feet. He has been recuperating from blisters on both feet but resumed training with the team on Tuesday, Brazil's squad doctor Jose Luis Runco told reporters in Germany.
Brazil, the defending champion, plays Croatia in its first game next Tuesday in Berlin.