GENEVA: Health advocacy groups on Monday urged FIFA to ban smoking at next month's World Cup in Germany after soccer's governing body dropped a smoke-free rule adopted in 2002.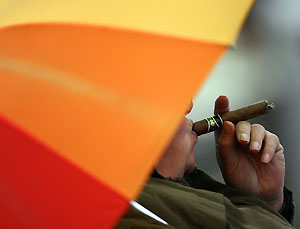 Instead of barring smoking at stadiums, expected to draw about 3 million people during the month-long tournament starting June 9, FIFA said it would ask fans voluntarily to refrain.
"An outright ban will not apply," FIFA said in a statement describing a campaign of posters, audio and video announcements "and mantra-like repetition of the key phrase 'No Smoking Please'" to discourage spectators from lighting up."
Sinead Jones, director of the International Union Against Cancer's global smoke free partnership, said the voluntary policy meant smoking would be freely permitted throughout the stadiums.
"They are saying to fans 'don't smoke,' but on the other hand, there will be absolutely no enforcement there," said Jones, whose organization is appealing for the German tournament to be smoke-free like the last World Cup in Japan and South Korea.
Noting that FIFA is selling branded lighters and ashtrays during the tournament, she said the campaign sent fans a mixed message about tobacco and sports.
"The whole thing is really inconsistent. It seems like a backward step," Jones said.
The World Health Organization (WHO) signed a deal with FIFA four years ago to make the 2002 World Cup venues tobacco-free, as are the Olympic Games, in a deal it hoped would set a precedent for future tournaments.
But FIFA declined to renew the agreement for the 2006 event after discussions with the German government and the local organizing committee.
Phone calls seeking comment from FIFA and the organizing committee in Frankfurt were not immediately returned.
Germany, a heavy smoking country with high state revenues from tobacco taxes, was among a handful of rich states in the 192-member WHO to oppose a planned global anti-smoking treaty.