TOKYO, May 26 (Reuters) - Playmaker Hidetoshi Nakata will again look to provide the World Cup inspiration for Japan when Zico's men open their campaign in Germany.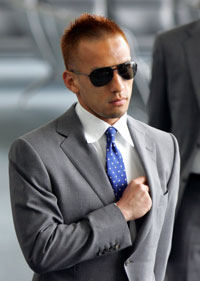 Japan's Nakata walks at New Tokyo International Airport in Narita.[Reuters]


Nakata, who will be playing in his third World Cup, is the heartbeat of a Japan side looking to build on their progress to the last 16 on home soil four years ago.

They face a difficult task in a Group F which also features holders Brazil, Croatia and Australia.

The Asian champions, however, have gained a reputation for resilience under Brazilian coach Zico and will look to Nakata for leadership when the going gets tough.

Japan's most recognisable player burst on to the world stage at the 1998 finals in France with his spiky orange hair and distinctly un-Japanese swagger.

However, Nakata quickly fell out with the Japanese press and has never truly buried the hatchet, despite moving to Italy later that year, preserving an air of mystery that has endured.

An intensely private individual, Nakata is enjoying a new lease of life at English Premier League club Bolton Wanderers and has looked sharp for Japan this year after a difficult 2005.

Nakata was twice involved in training ground bust-ups with Japan team mates last year as Japan struggled to qualify for the World Cup.

Fellow midfielder Shunsuke Nakamura publicly criticised Nakata for drifting out of position, prompting rumours of a rift between the players.

For Nakata, who is rarely criticised by Japan team mates, coaches or the country's media, it was a chastening experience.

However, the 29-year-old has bounced back strongly and underlined his importance to Japan with a brilliant equaliser in a 2-2 draw with Bosnia in February.

Nakata's vision, pinpoint passing and penetrating runs are likely to give Japan's opponents cause for concern at the World Cup. His leadership qualities will also be invaluable.