"Curses cannot touch me because I wear my underwear inside out."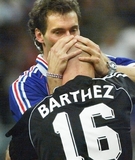 Defender Laurent Blanc kisses the head of Fabien Barthez at the final of France 98.[AFP]


Who else but a footballer could make a statement like this? In most cultures, and most sports, such belief in the protective power of one's underwear - voiced here by Adrian Mutu of Juventus and Romania - would be considered ridiculous, insane even.

Not in football. The beautiful game may have advanced massively, but its participants remain as rooted in superstition as ever and, whether it is ritual, religion, astrology or witchcraft to which fans, players and coaches turn, none of the 32 teams travelling to Germany will arrive without some kind of superstitious baggage.

Lucky 13 for Zagallo
Superstition might appear at its most intense in Africa - where stories abound of teams using witchdoctors - but anyone who believes this is a football phenomenon exclusive to one continent should think again. Indeed, only this week, Spain's star striker, Raul, was berated for turning up at training sporting a yellow T-shirt, a colour his coach, Luis Aragones, considers to bring bad luck.

Even Brazil, a team who, despite their yellow shirts, have still managed to become the most successful in the FIFA World Cup's history, have their superstitions. The most famous concerns Mario Zagallo's near-obsession with the number 13. "Because of my wife," the legendary former Sele??o coach explained, "I started using the number 13 on my shirt because she was devoted to St Anthony of 13 July."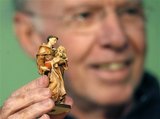 Mario Lobo Zagallo, coordinator of Brazil's national soccer team, shows a religious talisman during a press conference in Weggis, Switzerland, Tuesday, May 23, 2006. The Brazilian national soccer team will train two weeks in Weggis, in preparation for the World Cup 2006 starting in Germany on June 9. Brazil will play in group F against Croatia, Australia and Japan. [AP]

Zagallo, who is heading for his seventh FIFA World Cup in the role of Brazil's technical co-ordinator, is also convinced that the holders are all but guaranteed to retain the Trophy. And the reason? Naturally, because their coach, Carlos Alberto, has 13 letters in his name, and because the team's first match in Germany will be against Croatia on, yes - you guessed it, 13 June.
Perhaps there is method to this apparent madness. After all, another former FIFA World Cup-winning coach, Argentina's Carlos Bilardo, relied on a lucky tie he wore throughout the 1986 and 1990 tournaments and, having borrowed toothpaste from one of his players before Argentina's first match in Mexico, insisted on continuing the routine all the way to the Final.

Relive the 1986 FIFA World Cup

Italy's Giovanni Trapattoni, meanwhile, relied on a greater power than ties, toothpaste or lucky numbers, and was often seen sprinkling holy water from a bottle provided by his sister, who is a nun. This practice caused controversy in Trapattoni's homeland, but not nearly as much of a stir as the current France coach, Raymond Domenech's admission that he takes players' star signs into consideration before selecting his team.

Scorpios, such as Robert Pires, are said to be the principal victims of this practice as, according to Domenech, "they always end up killing each other". Nor can there be a surplus of temperamental Leos as they are liable "to try something daft", a belief that Werder BremenĄ¯s Johan Micoud blames for his omission from the French FIFA World Cup squad. "He (Domenech) was my coach at U-21 level, ten years ago, but apart from that I have never been contacted by him," said Micoud. "Maybe I am not in the squad because my star sign is Leo and there are too many in the French team."

Terry: 'I have about 50'
With guidance from such superstitious managers, it is no wonder that the tournament's history is littered with players whose habits are every bit as bizarre. Everyone, surely, will remember Laurent Blanc's pre-match ritual of kissing the bald head of Fabien Barthez prior to every match at France 98, but the French centre-half - a Scorpio, incidentally - is far from alone in behaving so oddly.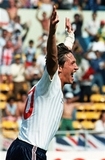 Gary Lineker celebrates after scoring for England against Poland in their FIFA World Cup first-round match in Monterrey, Mexico on 11 June 1986. Lineker struck a hat-trick that afternoon en route to becoming the six-goal top scorer at the finals.[AFP]

In 1966, for example, England's Nobby Stiles insisted on following an painstaking, intricately-detailed routine that involved rubbing olive oil on his chest and greasing his face and hands, while team-mate Jack Charlton would habitually change studs at last minute and could not end the warm-up without scoring.
Another Englishman, the 1986 adidas Golden Shoe winner Gary Lineker, accrued a whole list of superstitions during his career. "In the warm-up, I would never shoot at the goal because I didn't want to waste a goal," he once said. "I wanted to save those for the game. I'd always change my shirt in the second half if I hadn't scored in the first, but I'd keep wearing the same shirt if I had scored. If I ever went on a bad run, I'd always get a haircut."
Read Lineker's recollections of that golden summer in Mexico
It can also be seen that such seemingly illogical practices transcend generations, with current England centre-half John Terry ¨C who once scoured Barcelona's Camp Nou pitch for a lost pair of lucky shinpads - admitting to having "ended up with about 50".

"I am so superstitious," he has admitted. "I've got to have the same seat on the bus, tie the tapes round my socks three times and cut my tubular grip for my shin-pads the same size every game. I also drive to games listening to the same Usher CD in my car."
Some superstitions are, however, more palatable than others, and we can be grateful that Sergio Goycochea no longer keeps goal for Argentina. After all, the legendary keeper's routine for facing penalties ¨C which, until the Final of Italia 90, was remarkably successful - involved him hitch up his shorts and urinating on the pitch.
How effective are these habits and rituals? Well, with so many on the go at once, it would stand to reason that most of our superstitious stars are likely to end up disappointed this summer in Germany. Then again, what has superstition - or football - ever had to do with reason?