Chinese defender Li hopes to join Sheffield United
(Reuters)
Updated: 2006-05-10 14:43
BEIJING, May 10 -- Chinese footballer Li Tie said he is close to signing with English Premier League club Sheffield United, a day after being released by Everton, Chinese media reported on Tuesday.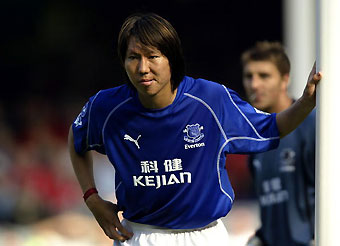 The 28-year-old defender said that only fine print stands in the way of joining the newly promoted United, a club with strong links to China, including ownership of the Chengdu Blades, a Chinese B-league team.
"Both sides are very positive," the Beijing Times quoted Li as saying.
"There are only a few remaining details to be discussed. Barring any surprises, we should be able to settle this by the start of next month."
Li's agent, Xu Hongtao, said the player's future in the English Premier League was simply a matter of time, adding that salary terms had already been agreed.
"At the latest, Li's formal signing will occur after the World Cup in Germany," Oriental Sports Daily quoted Xu as saying.
Li, who joined Everton from Chinese club Liaoning Fushen in 2002, was formally released on Monday after a disappointing season plagued by injury.