China's 110m hurdles Olympic gold medallist and world record holder Liu Xiang makes perfect debut in 2006 with success at the Osaka Grand Prix May 6, 2006. Liu clocked  13.22 seconds, above his coach Sun Haiping's expectation.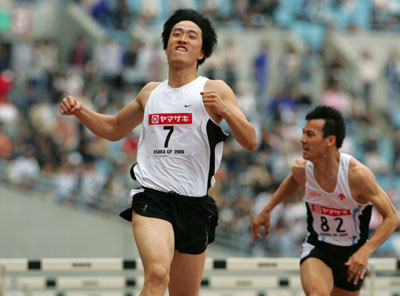 China's Liu Xiang, world record holder and Athens Olympic champion, crosses the finish line to win the men's 110-metre hurdles at the IAAF Japan Grand Prix in Osaka May 6, 2006. Liu clocked 13.05 seconds to win the final. Tasuku Tanonaka of Japan is at right. [Reuters]
The 23-year-old hurdler had put off his debut this year for several times after he sprained his ankle this February. His latest event before the injury was at the East Asia Games in Macao last November, when he grabbed an easy win with a time of 13.21 seconds.
His injury had denied his normal exercise until the end of April, when he put on rubber shoes and tried to run over hurdles. "I don't expect him to run a very good result and we will just take this chance to get refreshed after injury", Liu's coach Sun said before they flew to Osaka.
"It was a perfect debut of me," the young man said while trying to catch his breath after the event, "Osaka is a lucky venue for me. I had won two champions here before so I decided to come this time to grab my third straight champion in Osaka though my injury has not completely healed. And finally I really did it."