Guangdong win CBA title
(Xinhua)
Updated: 2006-04-20 05:51
DONGGUAN -- Guangdong Baomashi wrapped up the third consecutive title of the Chinese Basketball Association league with a 88-81 victory over the Bayi Rockets on Wednesday.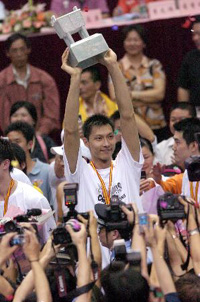 A Champion is born
The Tigers won the best-of-seven final series by 4-1 and took the trophy for the first time at the home court.
Guangdong is the second team that won the CBA championship for three times after the Rockets won the all first seven seasons of the league.
Yao Ming, center of the Houston Rockets, led the Shanghai Sharks to the only other title in the 2001-02 season prior to his trip to the United States.
Center Yi Jianlian led the home team with 26 points and 11 rebounds, while Zhu Fangyu scoring 21 points.
Bayi's center Mo Ke buried four 3-pointers for 24 points.
Trailing 61-51 in the third quarter, the Rockets surged up in the fourth period for a 15-3 run to overtake the lead at 65-64 with over eight minutes to go.
Guangdong controlled the board in the following game to regain the lead, beating the opponents by 33-22 on rebound.